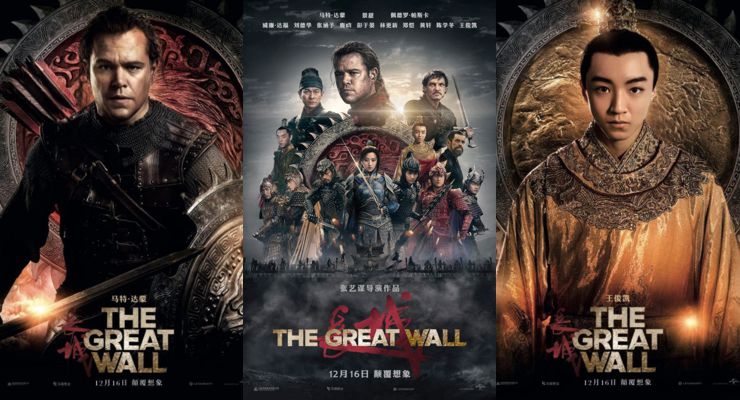 The Great Wall (2016) is directed by China's most famous director, Yimou Zhang, responsible for Hero (2002), House of Flying Daggers (2004) and Curse of the Golden Flower (2006). His newest film which stars Matt Damon, known for the Bourne series of films as well as Tian Jing, who you remember was trained by Donnie Yen for her role as the female cop, Fang Jing, in Special ID (2013), and who starred with Jackie Chan in  Police Story: Lockdown (2013) and for the voice of Argenta in the animated  Dragon Nest: Warriors' Dawn (2014). It also stars Pedro Pascal, who portrayed Oberyn Martell in the fourth season HBO's series Game of Thrones and Javier Peña in the Netflix series Narcos, and Willem Dafoe who needs no introduction and Lu Han known for Time Raiders  (2016), and The Witness (2015) and Andy Lau, one of Hong Kong's most commercially successful film actors since the mid-1980s, performing in more than 160 films.
Our fellow martial artists, Hiro Koda is a Stunt Coordinator along with Buster Reeves and Nuo Sun is the Fight Coordinator for The Great Wall (2016). Lauren Mary Kim is the stunt double for re-shoots for Tian Jing and Simon Rhee is the the mo cap stunt performer.
Legendary Entertainment's Thomas Hull, executive producer of The Dark Knight, The Hangover, and Man of Steel, is also the executive producer of The Great Wall (2016). The film is a collaboration between east and west with the $150-million project backed by investors including state-run China Film Group and LeVision Pictures. It is one of the highest-budgeted films ever in China and the the biggest film to be made with co-production shared by the United States and China to date (2015).
The Great Wall (2016) was not filmed using the actual historic Great Wall of China, but on 28 sets in Beijing and on an fauz wall constructed in the city of Qingdao in east China and with the use of intensive visual-effects.
The Great Wall (2016) is a mystery centered around the construction of the Great Wall of China which is 5500 miles long and took 1700 years to build. The questions is, what were they trying to keep out?
I was born into battle. I fought for greed and gods. This is the first war I've seen worth fighting.
The Great Wall (2016) was in theaters on November 23, 2016.
Pat Morita would later land a job with an aerospace firm, but in his early thirties, Morita abandoned his corporate career to pursue a career as a comedian. He struggled in the nightclub circuit for many years as a stand-up comic known as the "Hip Nip". He made his first on-screen appearance in Thoroughly Modern Millie (1967).