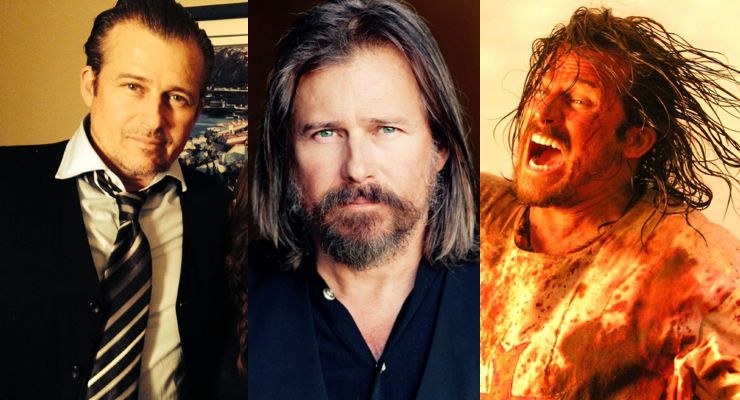 Tim Abell was born on July 1, 1958. He is an American film and television actor known for Soldier of Fortune, Inc. (1955) (1997–1999) We Were Soldiers (2002) (2002) Soldier of God (2005) (2005).
An exciting and diverse actor, Tim Abell can Cha Cha, Tango, Waltz or Swing and he taught ballroom dancing in college. He is an expert horseman and trainer, an avid hunter and has trained people in the responsible use of guns. He is a Life Member of the SCI and NRA, and an NRA Certified Instructor and he is a martial artist. He is also an inline skate coach. Tim loves to write, to cook, to act and to produce. He is also a US Army Ranger with the 75th Ranger Regiment where he earned his Ranger Tab, Expert Infantry Badge, West German Jump Wings, J O T C Patch, Expert Rifle Badge, was an Honors Graduate at Primary NCO School and qualified at the Equestrian Riding School. During his five years of active service, Tim received arctic, jungle, desert and amphibious combat training in the United States and in locations around the world.
As a young man Tim Abell practiced martial arts and boxing. He found a respect for wildlife conservation and a love for the land while hunting and fishing with his elders in the Maryland and Virginian area. At the age of 17 he joined the army, and his outstanding leadership skills got him promoted during basic training. He advanced quickly, attending AIT, Airborne School and Ranger School, all at Fort Benning, Georgia. He was assigned to the 2nd Ranger Battalion, Ft. Lewis, Washington, as a Ranger after getting through the Ranger Indoctrination Program (RIP).
Gaining further promotions, Tim achieved a substantial number of awards for his expertise in many varied fields. During his final year in the Army he served with the 3rd US Infantry, "The Old Guard", Caisson Platoon. Here he excelled as a horseman and played Robert E. Lee and Andrew Jackson, charging into battle on his trusty steed, in the US Army dramatic re-enactment of the History of the United States Torch Light Tattoo, at the Jefferson Memorial in Washington, DC, and a longer version called "The Spirit of America" performed in various places.
After five years of service, Tim left the army to go to college. Once in college, he was encouraged to join the Arthur Murray Dance Studio and he was soon teaching classes to support himself through college. It was here that Tim first got involved in theatre after taking an Acting for Non-actors class. He caught the acting bug and before he graduate, he decided to leave college for Los Angeles to begin an acting career. In LA he began studying acting with well respected acting teacher, Jeff Corey.
He began his career doing a series of low-budget films and working in theatre projects, but his break came when April Webster recommended that Jerry Bruckheimer cast him in Soldier of Fortune (2005) (1997) television series. Tims military background and training in martial arts led to the roles he plays most often, the warrior. Tim played the role of Benny Ray Riddle, a former Marine scout/sniper recruited by the Pentagon to work as part of a covert team. The syndicated series ran for two seasons. Following this series were more films that utilized Tim's military experiences, including The Base (1999) (1999), where he starred opposite Mark Dacascos in a performance that had him compared to a young Willem Dafoe, and The Substitute: Failure Is Not an Option(2001) (2001) which also starred Treat Williams and Bill Nunn.
Tim also starred with Mark Dacascos in the film adaptation of Lisa Gardner's book The Perfect Husband. In Instinct to Kill (2001) where Tim played psychotic killer Jim Beckett with Missy Crider as his long-suffering wife.
Murder, She Wrote: The Last Free Man (2001) (2001) for CBS, took Tim in a new direction, into historical costume drama. This was followed by roles alongside James Caan and Daniel Stern in Jason Bloom's award-winning Dead Simple a.k.a Viva Las Nowhere (2001), and in the much acclaimed We Were Soldiers (2002) starring Mel Gibson. With his Guest-starring roles in the television series' CSI: Miami (2002), NCIS (2003) and JAG (1995) he was able to work with the likes of David Caruso, Mark Harmon and David James Elliott.
Tim began to work behind the camera and he co-produced the multi-award-winning film Soldier of God (2005) (2005), directed by W.D. Hogan and produced by Mir Bahmanyar. Soldier of God has won Best Feature Film awards for 2005 at The Deep Ellum Film Festival in Dallas, The Stratford upon Avon International Film Festival in England and The Berkley Film Festival in California. As well as his role as co-producer on Soldier of God, Tim took on the emotionally intense role of the anti-hero knight, Rene. It was a real accomplishment for this talented actor.
Tim Abell also starred in and was associate producer on the Thadd Turner-written Miracle at Sage Creek (2005) (2005) starring David Carradine, Wes Studi, Michael Parks and Irene Bedard. There were plans for two more films with Thadd Turner in where Tim was to star alongside Shania Twain, Michael Madsen and Kris Kristofferson in Buttermilk Sky (2007) and The Hard Ride (2007), but the films were never made.
In 2005 he filmed The Tom Campbell Water Story, a.k.a Breathe, in Florida and Santa Barbara, California. The film, directed by and starring Don Murray, is based on the true story of three scuba divers trapped in an underwater cave.
More recently he has had leading roles in These Things I Do That Others May Live (2013) (2013) Clubhouse (2013) (2013) Mercenaries (2014) (2014) Jack County Demons or Navy Seal vs Demons (2017) (2015) and The Deadliest Gun (2015).
Besides Film and television, Tim also has an impressive career in theatre. He has studied at Arena Stage, the Studio Theatre, and the Shakespeare Theatre at the Folger in Washington DC. He has appeared in productions including Edward II, Bus Stop, and Romeo and Juliet, and many others. Tim has performed in Los Angeles with appearances in Rocks at The Room Upstairs, Beltway Roulette at Le Cafe, Pearly's and Heaven's Den at The Complex, The White Biting Dog at The Odyssey Theatre. He played Eddie in Sam Sheppard's Fool for Love at The Power House Theatre and the roles antithesis, Oberon in A Midsummer Night's Dream. More recently, at The Jewel Box Theatre in Los Angeles, Tim played a super-hyper, type A, tweaked New York Director, who had to deal with acting styles and prima donnas in Method to the Madness which was directed by Kevin Kennedy.