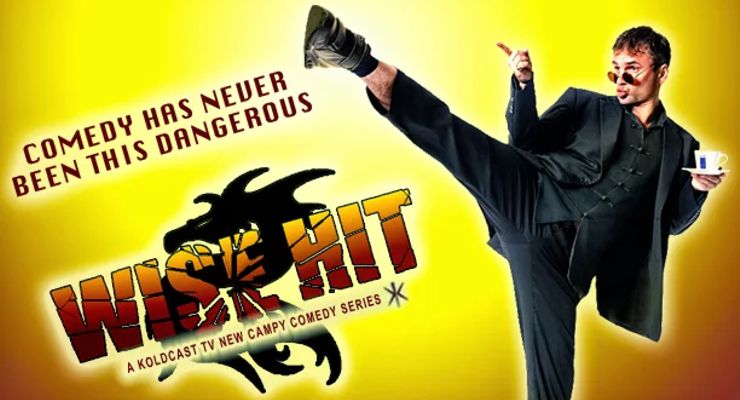 Wise Hit (2009-2013) is an independent web series shot in Shanghai. It is a martial art comedy series set in a magical reality. Comedy has never been this dangerous!
In Wise Hit, lovable hitman, Wiseguy, works for a local Shanghai boss, Carlos, but he wants to get out of the business. He's recently realized that there is more to life than busting up people's faces. Discovering he has a sensitive side, he wants to go to New York City and set up a matchmaking service to help bring nice people together. Before Wiseguy can leave Shanghai he must make one last pickup and deliver a package to an unknown employer who he's already insulted over the phone. To complete his mission, he needs to overcome an assortment of evildoers including Frenchy, Ratnose and Carlos, three hitmen who want to see him fail. Supporting Wiseguy on his quest is a country hip-hop underground radio show, The Tea and Honey Show, hosted by the infamous Tea and sexy DJ Honey. In the final scene, the secret Bruce Lee and Mel Brooks take on pulp fiction in contemporary Shanghai.
The Executive Producer of Wise Hit is Eve Zhou.
The series was online video content shown on the network Koldcast TV, which focused on original web series, short films, and documentaries. The company closed its doors in March of 2014 and the series moved to YouTube.
Watch all Episodes of Wise Hit
The Actors:
Drago Lazetich – wiseguy
Yuan Chu- Carlo: The boss man
Javier Alpire – Carlo's bodyguard
Pierre Michel – Carlo's assistant
Jasmine Tse – Radio DJ Honey
Eve Zhou – person in hotdog suit
Tomer Oz – Ratnose
Season 1 Episodes 1-16
I Have a Sensitive Side
The White Glove Treatment
I Needed the Cash
The Bull
Lady Number Nine
French Pimp
The Restroom
Vamp I R
An Expat Named Vito
Infamous Tea and Honey Show
Dr. Gropus
Sidekick
The Way of the Drag Queen
Fun Fun on the Bund
Hot 4 Teacher
From Uranus with Love