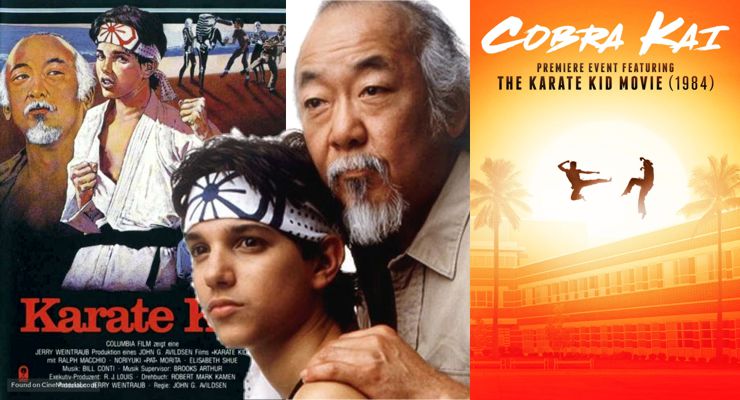 Moviegoers across the country will be practicing their "wax on, wax off" skills when Fathom Events and YouTube revive the beloved "Karate Kid" saga with an exclusive, one-night cinema experience featuring the original 1984 classic, The Karate Kid, coupled with an exclusive advance screening of the first two episodes from the new YouTube Red Cobra Kai series based on the Karate Kid franchise.
On Wednesday, April 25, 2018, Fathom Events will bring The Karate Kid and the first two episodes of the YouTube Red Cobra Kai Series to 700 theaters across the country.
On Friday, March 23, 2018, tickets for The Karate Kid (1984) and the YouTube Red Cobra Kai Series double feature will go on sale. The YouTube Red Cobra Kai Series premieres on May 2, 2018 only on YouTube Red.
YouTube Red Cobra Kai Series Premier Event Featuring The Karate Kid (1984)
Looking back at The Karate Kid (1984), Daniel (Ralph Macchio) moves to Southern California with his mother, Lucille (Randee Heller), but quickly finds himself the target of a group of bullies who study karate at the Cobra Kai dojo. Fortunately, Daniel befriends Mr. Miyagi (Noriyuki "Pat" Morita), an unassuming repairman who just happens to be a martial arts master himself. Miyagi takes Daniel under his wing, training him in a more compassionate form of karate and preparing him to compete against the brutal Cobra Kai.
In the new 10 episode YouTube Red Cobra Kai series we see the highly-anticipated return of the two arch-rivals from the legendary Karate Kid film series. It is over 30 years after the events of the 1984 All Valley Karate Tournament when we see the two reunite. Daniel LaRusso (Ralph Macchio) is living in the prosperous hills of Encino and leading a coveted life with his beautiful family. He runs a successful string of car dealerships throughout the valley and he is known for his TV ads "karate chopping prices". Meanwhile, his high school adversary, Johnny Lawrence (William Zabka), has not had a successful life and decides to  reopen the infamous Cobra Kai karate dojo hoping to rebuild his tough guy reputation. Their lives become intertwined once again, and the rivalry is reignited.