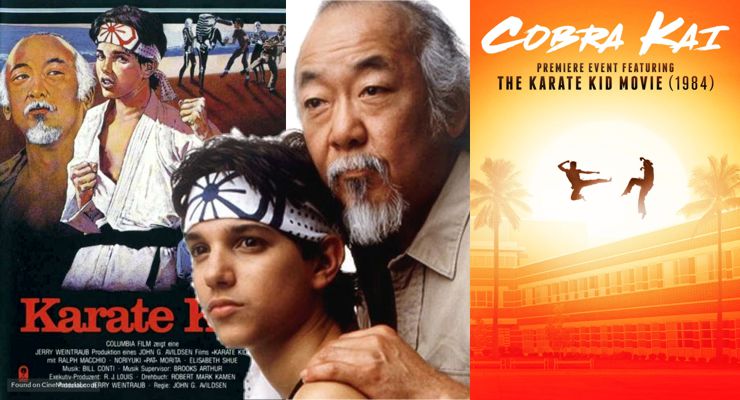 It starts with moviegoers across the country practicing their "wax on, wax off" skills when Fathom Events and YouTube revive the beloved "Karate Kid" saga with an exclusive, one-night cinema experience on April 25, 2018 at 700 theaters nation wide. The event features the original 1984 classic, The Karate Kid, coupled with an exclusive advance screening of the first two episodes from the new YouTube Red Cobra Kai series based on the Karate Kid franchise.
On Friday, March 23, 2018, tickets for The Karate Kid (1984) and the YouTube Red Cobra Kai Series double feature will go on sale. The YouTube Red Cobra Kai Series premieres on May 2, 2018 only on YouTube Red.
Looking back at The Karate Kid (1984), Daniel (Ralph Macchio) moves to Southern California with his mother, Lucille (Randee Heller), but quickly finds himself the target of a group of bullies who study karate at the Cobra Kai dojo. Fortunately, Daniel befriends Mr. Miyagi (Noriyuki "Pat" Morita), an unassuming repairman who just happens to be a martial arts master himself. Miyagi takes Daniel under his wing, training him in a more compassionate form of karate and preparing him to compete against the brutal Cobra Kai.
In the new 10 episode YouTube Red Cobra Kai series we see the highly-anticipated return of the two arch-rivals from the legendary Karate Kid film series. It is over 30 years after the events of the 1984 All Valley Karate Tournament when we see the two reunite. Daniel LaRusso (Ralph Macchio) is living in the prosperous hills of Encino and leading a coveted life with his beautiful family. He runs a successful string of car dealerships throughout the valley and he is known for his TV ads "karate chopping prices". Meanwhile, his high school adversary, Johnny Lawrence (William Zabka), has been working as a maintenance man attempting to make ends meet. A series of mishaps, some involving their high school children, makes Johnny decide to reopen the infamous Cobra Kai karate dojo hoping to rebuild his tough guy reputation and their lives are intertwined once again with the rivalry is reignited. Martial artist and actor, Xolo Maridueña of Parenthood (2012-2015) will play a student at the Cobra Kai dojo.
Creator and showrunner, Hayden Schlossberg, along with Jon Hurwitz and Josh Hearld make up the producing and directing team. The three have always been die hard Karate Kid fans, as is Susanne Daniels, who is YouTube Red's global head of original content. Daniels thinks this series will put YouTube Red on the map as a digital subscription service with quality original content.
The Cobra Kai series will give Johnny much more depth. He will no longer be the villain, but more like the guy we got a peek of in the original series when he called himself an ex-degenerate with "one year to make it work". Or, at the end of the original Karate Kid, when Johnny says "You're all right, LaRusso. Good match. Finally, William Zabka will be allowed to develop his character the way he wished he'd been able to do in the original film, which is a big part of the reason he decided to join the project as co-executive producer along with Ralph Macchio. Macchio also saw the new series as a fresh approach, relevant to today's audiences and a series that will pay tribute to his sensei, Mr. Miyagi, "His essence is peppered throughout the series," says Macchio.
According to Jon Hurwitz, "We wanted to explore the topic of bullying while having the most iconic bully of all time at the center of it. "You always think when you're in high school that there are guys who are jerks that you hope to never see again, and years down you get to see what happened to Johnny Lawrence. Can he turn his life around? Can he be a better man than he was than he was a teenager?"
Watch Cobra Kai Episode 1 "Ace Degenerate" for FREE on YouTube
Watch Cobra Kai Episode 2 "Strike First" for FREE on YouTube