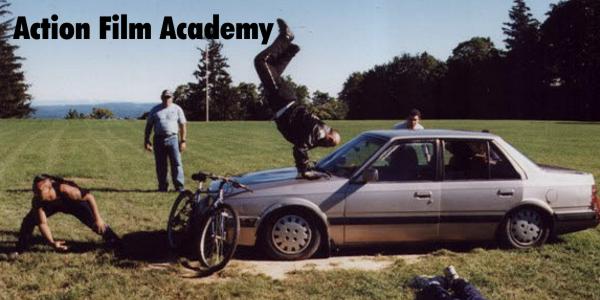 Using the talent and experienced members in the world of martial arts and stunts, Action Film Academy and Screen Action Stunt Association have been in the business of training professional stunt and film fighting personnel since 1991.
The action film Academy was founded by Keith W. Strandberg, Keith Vitali and Michael DePasquale, Jr.. The Action Film Academy, trained hundreds of actors and fighters to work in film. Keith W. Strandberg used many of these performers in his own movies and many have gone on to have successful careers in the movies and TV.
All of the classes held at the Academy are instructed by SAG Members, professionals with many years of experience. The training of stunt performers enhances the network of professionals that our production company Screen Action Productions and our organization known as Screen Action Stunt Association relies on in our film producing ventures.
Action Film Academy has had the opportunity for thrill seekers to come and have the experience of a lifetime. The chance to stay with us during an Academy event and live the life of a Hollywood stunt performer.
Recently we have begun developing programs for corporations interested in team building retreats. Currently the goal of MDP Enterprises, Screen Action Stunt Association and Action Film Academy is to successfully service any production company, director, casting agent, talent agent, and film company with projects.