Synopsis: Black Salt is a live-action short film project.
Plot: With only four days left the clock ticks down towards a new world holocaust. The only thing standing in its path is Interpol's deadliest black-ops agent, Samuel Tharpe.  Sam hunts down the path of a game-changing weapon of mass destruction called the Exterminatus.  He follows hot on its trail deep into the ancient land of China where he must seek aid from the Abbot at the Shaolin Temple. An evil Yakuza master stole the Exterminatus and seeks to use it in the East. Sam must prove his worthiness by fighting one of the Temple's most skilled monks. Prepared to lay down his own life in exchange for the lives of his family and the world, Sam steps forward and engages in combat. Only his long-past training by the Shaolin master, Yu Bai Shek will make him a worthy hero.
Genre:  Action / Thriller / Espionage / Martial Arts
Rating: PG-13 to capture a wider target market.
Log Line: With time winding down towards world-ending devastation, the fate of mankind rests in the hands of one man.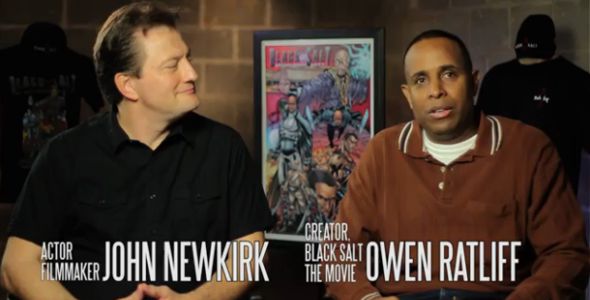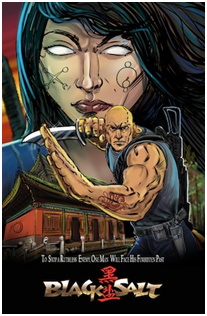 Comic book creator and producer Owen Ratliff has already spent a number of years and money putting forth his energy and time into this new project, an original character which he expresses his hopes to make superhero movie history by bringing exciting Kung Fu action to further ornament a hero that he feels can bring real world social value. And to top it all off, Ratliff is bringing some martial arts cinema star power to hardcore fans who regularly follow the genre on all levels, including Ben Ramsey, the director of the Michael Jai White 2009 action vehicle, Blood And Bone, and its currently developing sequel. Also on the list are martial arts action superstar James Lew who carries an amazing body of work over the course of well over three decades in TV and film, actress and stuntman Michelle Lee whose most recent notable appearance came in the second season of Kevin Tancharoen's highly acclaimed web series, Mortal Kombat Legacy. Master Xiaojun Wang has joined the cast of Black Salt The Movie in the role of Monk Sing. Master Xiaojun Wang screen credits include: Spike TV's "Deadliest Warrior: Shaolin vs. Maori", a National Geographic Fight Science special in which scientists evaluated his body's ability to withstand getting hit by baseball bat, a History Channel Art of War special and a Best Buy commercial for the Bravia TV. Kinyumba Mutakabbir has been cast in the lead. He is a rising star who started in small feature roles in Entourage, Iron Man 3 and The Bold and the Beautiful. In 2012 he landed the role of "Woody" in the Cinemax series "The Jump Off", season 1 aired through 2013. Panuvat Anthony Nanakornpanom is a top stunt performer appearing in over 50 films and TV shows. Some of his films include Teenage Mutant Ninja Turtles, Snake and Mongoose, The Hangover Part III, Iron Man 3, Argo, Olympus Has Fallen just to name a few. Sheena Chou is an actress and producer, known for Meet the Spartans, Burned and Aces
On February 3, 2014, Ratliff launched a Indiegogo  crowd funding campaign, which helped provide funding for a quality short film which recently wrapped. The Black Salt Short film will be used as a viable proof-of-concept to pitch to investors for the feature film, and Ratliff also offers the Black Salt Short film to martial artists and martial arts action film enthusiasts as a download for $2.99. Black Salt the short is a well scripted, well produced, and well directed film that will help keep the martial arts film genre strong.