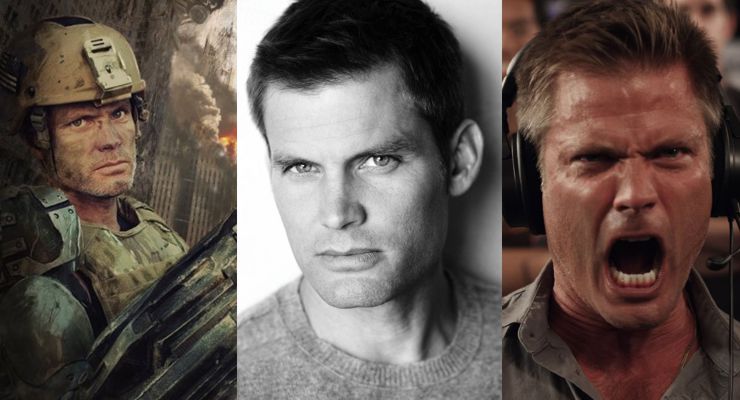 Martial artist and actor, Casper Van Dien, made his breakthrough in the entertainment industry with his lead role as Johnny Rico in Paul Verhoeven's sci-fi film Starship Troopers (1997), one of the most talked about films of 1997 with one of the largest cult followings in film history. He was also in Tim Burton's critically acclaimed film Sleepy Hollow (1999), as Brom Van Brunt. He was the 20th Tarzan and the only one to ever film in Africa and ride an African elephant in the Warner Brosthers film Tarzan and the Lost City (1998).
He played the role of Creek, a down and out alcoholic detective opposite Caity Lotz in The Pact (2012), which was well received at Sundance. He played a Post Apocalyptic survivor in Beyond the Wave (2015) a film shot entirely in China. He plays Saber Raine in Mark Steven Grove's Star Raiders: The Adventures of Saber Raine and in Alexander Nevsky story,  Showdown in Manila (2016) directed by Mark Dacoscos, he plays Charlie Benz. He stars opposite Sean Maher as Lt. Col. Harold Richards, part of a two man crew on a mission to the end of the universe in independent film ISRA 8 (2016).
Television credits include Monk (2008) where he played a Navy Doctor in the season finale. He also played in Beverly Hills, 90210 (1994).
Casper Van Dien recently playing Johnny Cage in the insanely popular Machinima webseries, Mortal Kombat Legacy, in seasons 2 and 3. He won best actor for his comedic chops in the series. He stars as Hawk Guy in the upcoming Avengers spoof Interns of F.I.E.L.D. (2016) produced for television by Screen Junkies. You can also see him as the hunky bartender in the popular television series Con Man (2015 – 2016) starring Alan Tudyk and Nathan Fillion. He also plays the perfect version of himself in the TV mini comedy series Crunchtime. (2016-)
His most recent victory has been behind the camera as a Director. He has directed three films in which he also starred. His second film, Patient Killer, won best film and best director awards and was bought by and aired on Lifetime.