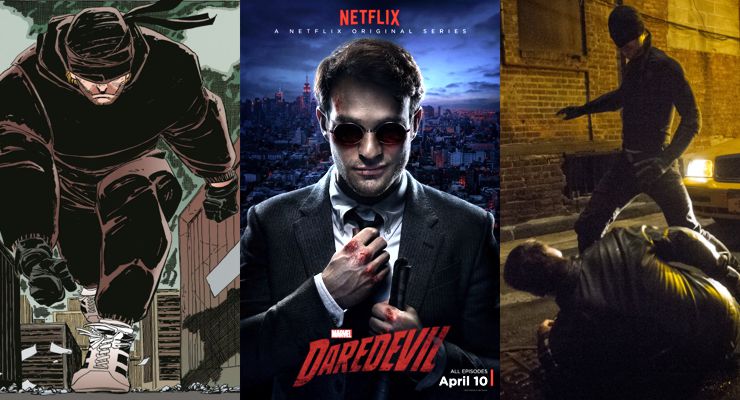 Daredevil Update: Jon Bernthal (The Walking Dead, Mob City, The Wolf of Wall Street, Fury) will be seen in season 2 of Daredevil in the part of Frank Castle/The Punisher. In the past this part has been played by Dolph Lundgren, Thomas Jane and Ray Stevenson. Jon Bernthal is the first live action actor to portray Frank Castle/The Punisher who was born after the character was created and the first American born actor in 12 years to portray Frank Castle/The Punisher in a live action adaption. Jon Bernthal on IMDb
Marvel's Daredevil is here to clean up the streets of Hell's Kitchen, New York. Lawyer by day, street-level hero by night, Matt Murdock is on a mission to make his city a better place against an underground terror within the city.
Matt Murdock, who was blinded as a young boy, is imbued with extraordinary senses which he uses to fight against injustice as a lawyer and as the super hero, Daredevil.
Daredevil stars Charlie Cox as Matt Murdock/Daredevil, Deborah Ann Woll as Karen Page, Elden Henson as Foggy Nelson with Rosario Dawson as Claire Temple and Vincent D'Onofrio as Wilson Fisk. The series also stars Ayelet Zurer as Vanessa Marianna, Bob Gunton as Leland Owlsley, Toby Leonard Moore as Wesley, Vondie Curtis-Hall as Ben Urich.
Daredevil is Marvel's first original series on Netflix. It is being Executive Produced by the series Showrunner, Steven S. DeKnight ("Spartacus," "Buffy: The Vampire Slayer," "Angel") and Drew Goddard ("Cabin in the Woods," "Lost," "Buffy The Vampire Slayer," who also wrote the first two episodes along with Marvel TV's Jeph Loeb ("Marvel's Agents of S.H.I.E.L.D.," "Marvel's Agent Carter," "Lost").
Marvel's Daredevil episodes on Netflix premiere on April 10, 2015 with 13 one-hour episodes.