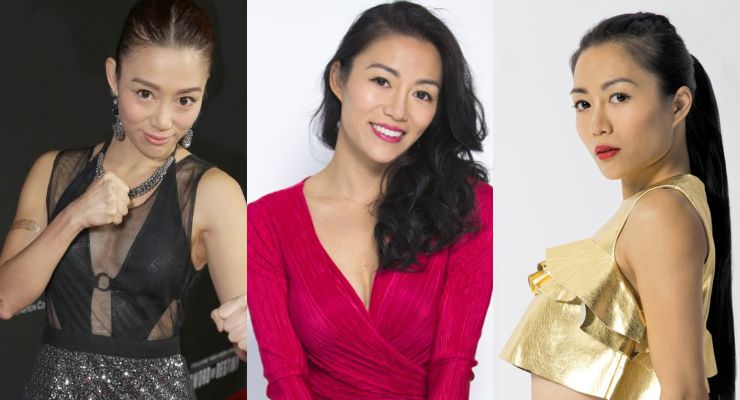 Taekwon-Do Black Belt and international championship medalist, JuJu Chan is a Hong Kong born Chinese American Actress. She  graduated from NYU Tisch (School of Film/TV), and was coined as the next Michelle Yeoh and Female Bruce Lee by the Hong Kong Media. She is the only female actress in Hong Kong who has mastered the nunchucks, including double nunchucks. She is also a Muay Thai (Thai Boxing) 46KG Champion in Hong Kong.
JuJu played Silver Dart Shi in Crouching Tiger Hidden Dragon: Sword of Destiny, she is the lead actress in Savage Dog, co-starring with Scott Adkins. She is also the lead in Roger Corman's new action film "Fist of the Dragon", playing Meili, co-starring with MMA champion Josh Thomson.
As a Taekwon-Do fighter, JuJu Chan represented Hong Kong in the 18th World Taekwon-Do ITF Championships and China Open Taekwon-Do Championships where she won a GOLD medal in Female Black Belt Pattern (forms) and a BRONZE medal in Female Black Belt Sparring competitions.
In 2012, she starred in "Hit Girls", an Australian-Chinese short film, playing the lead role as Pixie Ho, a sexy well-trained assassin, which led her to winning an award in the Action on Films International Film Festival as Breakout female action star. The award was shared with her co-star Maria Tran.
She is best known in Hong Kong for being featured in "Rich Mate Poor Mate", a widely watched reality TV series in Hong Kong produced by RTHK.
In 2009 JuJu Chan competed in and won Miss United Nation International Ambassador, Miss Congeniality, Miss China, and Miss Photogenic. She was also named Miss TVB People's Choice in the Miss Chinatown USA Pageant 2009.
She graduated with a Master Degree from NYU Tisch, School of Film/TV. She also holds an BSc Honours Degree in Computer Science and Mathematics, and a Dance Minor from the University of San Francisco.
JuJu published two books in Hong Kong, an inspirational book called "To Live a Beautiful Life" based on her real life experience living in poverty during the filming of "Rich Mate Poor Mate". Her second book is an instructional manual called "Food and Ordering at a Restaurant" which also became one of the best sellers in Hong Kong.
JuJu composes and writes her own songs. In 2011, she released her first album "I wanna hold your heart" in Hong Kong, and won 2 new comers music awards on Hong Kong.