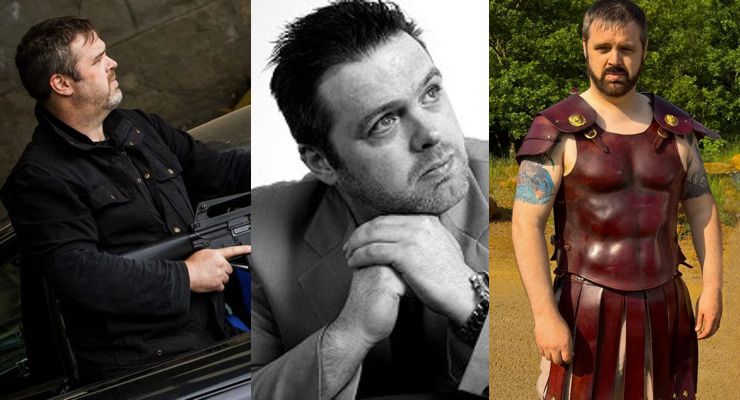 I have been working in film and TV for almost 20 years in films like King Arthur (2004), Prince of Persia: The Sands of Time (2010), Housefull (2010) and Cleanskin (2012).
I have a great passion for martial arts and film and I continue to have the dreams of a young child to fulfill. Nothing will stop me doing and loving what I do.
At a young age, there were two things I wanted to be when I grew up, a Ninja and a stuntman. Some would say the growing up bit never really happened but as a child I watched a ninja film called Last Ninja (1983) with Mako in it, and was also a huge fan of "Fall Guy" and since those early years I wanted to be a Ninja and a Stuntman even though didn't know what either really entailed.
Nowadays, amidst some big hurdles, I manage to call myself both. It didn't matter what got in my way, I kept going because I really wanted to be a Ninja and a stuntman. Both endeavors have lived up to, and exceeded, my childhood expectations.
I trained in numerous different martial arts as a youth because I couldn't find anyone who taught Ninjutsu. When I did finally find instruction with Grandmaster Masaaki Hatsumi and other Shihan in Japan, I continued to train regularly in Ninjutsu and I have been training for the last 26 years. The study of Ninjutsu has blown my mind every day since I began studying it. My Ninjutsu training is responsible for keeping me alive and keeping my clients safe on those many occasions when I worked in the security industry as a bodyguard and as a bouncer.
The next step of my career began when I befriended some Equity stunt professionals and they encouraged me to train for the Stunt Register and work in films. They said my different style of fight skills, both unarmed and armed, and my knowledge of so many different weapons, along with the skills to use those weapons, would give me an edge. Another edge I had was an understanding of how to use my skills in real world situations, against real opponents, in groups and against opponents with or without weapons. I had also been training in stage combat which added to my skills. They said all of these skills would be a fantastic asset to any action film, so I determined to use those skills in the film industry. I had to join the Stunt Register and I listed 5 of my 6 skills which took over two years, and it cost me a fortune. I had almost reached my goals when a twist of fate set me back. While I was working in the security industry, I broke my back. Now the question was, would I ever be able to continue training in Ninjutsu or be able to work as a stunt performer?
After a couple of weeks, I tried to formulate a plan to proceed in the entertainment industry. I contacted Equity to freeze my qualifications in order to give me time to recuperate only to be told they don't do that any more and that I would have to get a new list when I was ready to resume.
It took almost a year to get to the stage where I could begin using my skills again. I contacted Equity and was told that some of my skills had been removed because I was not able to train and other skills had been removed due to the fact that "too many people were purchasing their certificates instead of earning them". The huge amount of money and effort I put into training for and then listing those skills on the Stunt Register was all for naught. My other worry was the fact that to get that skill listed, you had to spend more than a year performing the skill, but they were allowed to remove skills off the list every year. If all this wasn't difficult enough to deal with, I was told that even if all my skills were regained quickly, because I was almost 40, I would probably not be accepted or employed.
Many people would give up, but I could not. Much as I would have loved to get on the Stunt Register, I found out how I could bypass the Register and become independent. I was not willing to give up.
Today I continue to get fight and stunt work, appearing regularly in film and on TV, either on screen or behind the scenes as the Fight/Stunt Coordinator. I have also started a small independent stunt team of passionate people that have joined me on my journey. I also teach Ninjutsu and I love every moment of it. I am living my childhood dream, and I am in the process of committing my semi autobiographical ninja film script to screen.
All in all, it takes fortitude and determination and a "never quit" attitude to succeed. It also takes lots of hard work. Don't give up!