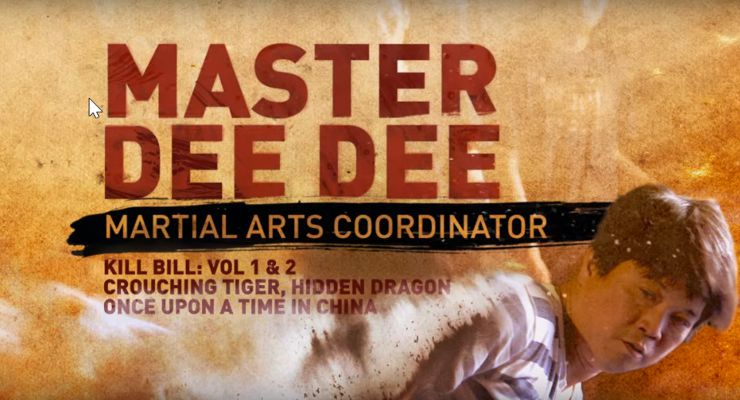 Dee Dee Ku (Huen-Chiu Ku) is known for working with Keanu Reeves for The Matrix, Uma Thurman for Kill Bill, and Zhang Ziyi for Crouching Tiger, Hidden Dragon. He was the action choreographer for Once Upon a Time in China II (1992) and Iron Monkey (1993). He was the martial arts and stunt double for Jet Li in Tai-Chi Master (1993), Fist of Legend (1994), Once Upon a Time in China and America (1997), Lethal Weapon 4 (1998), and Romeo Must Die (2000). He was assistant stunt coordinator for Kung Fu Hustle and the stunt coordinator for The Mummy: Tomb of the Dragon Emperor (2008) and assistant action choreographer The Forbidden Kingdom (2008).
Master Dee Dee Ku, was the action coordinator for the first 6 episodes of AMC Studios martial arts action adventure series, Into the Badlands. He is credited with the intense 6 weeks of training that helped the actors get into their characters as martial artists. It was DeeDee Ku who taught them the basic skills of kung fu, weapons, choreography and working with wires. It was Dee Dee Ku's expert eye that determined the actors's strengths and allowed each character to excel at the martial arts moves most natural for them.
Master Dee Dee saw that Emily Beecham, who played The Widow in Into the Badlands, moved with the grace of a snake and her weapons in the series matched her femininity, rather more dainty, but just as powerful and deadly as the heavy sword welded by Sonny. The use of double-weapons, with their strong feminine qualities, became the characters weapons of choice.
M.K. is the 15 year old Aramis Knight in the series and Dee Dee sees that he is good a gymnastic style moves, flips, twists and wire work and his character becomes known for those moves.
Ally Ioannides is cast as the Widow's daughter, Tilda. She is young, but has been trained in martial arts by her mother from a young age. Tilda is fast, quiet, and a pro with ninja stars and hand to and combat.
Hollywood is never without help from its seasoned stunt professionals and the cast of Into the Badlands had some of the best to augment the cast's natural talent. Fight director and actor Stephen Fung of House of Fury, and Tai Chi Hero, along with the skilled experience of the series martial arts coordinator Master Dee Dee, allow the pros and the cast to integrate the martial arts techniques that excite the audience at every turn in Into the Badlands.