Carl Ciarfalio's Stars, Stunts And Stories: One Man's Fall To Fame is a book about Carl's experiences in film and television over the last four decades.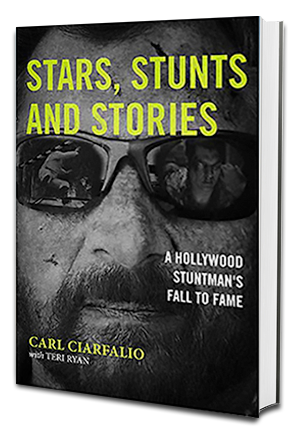 You might not know his name, but chances are you've seen veteran stuntman and actor, Carl Ciarfalio in blockbuster films and TV shows including Fight Club, Far and Away, 24, Out of the Furnace, The Book of Eli, Traffic, Walker, Texas Ranger, Casino (remember the guy who got his head crushed in a vise?), Grimm, Extant and many more!
In Carl Ciarfalio's Stars, Stunts And Stories: One Man's Fall To Fame he shares his best stories from four decades of working in Hollywood. He began with a summer job as a bumbling cowboy stuntman at Knott's Berry Farm and went on to work with elite actors and directors. You'll be riveted  by these insider stories about mega-celebrities and gnarly stunts. Carl shares his successes as well as a few embarrassing moments and he shares with you his unique insights and advice about the exciting world of stunts.
Carl's life off the set has been just as interesting. He opens up about a teen pregnancy, single fatherhood,  surviving a nasty Hollywood divorce, finally finding true love –  and the time he got run over for real by a criminal driving a half-ton truck!
As compelling as your favorite action movie, Stars, Stunts and Stories will have you turning the pages … and glued to your seat!
Stuntmen and stuntwomen have the coolest jobs in the industry. They get to fight, fall, burn up, get blown up, kill and get killed. We crash cars, boats, motorcycles and planes. You'll also see them acting in vital supporting roles.
Whatever the assignment, their job always entails working in tandem with your favorite stars, taking orders from your favorite directors, and being intimately involved in the creation of your favorite shows. How cool is that?
Over the years he's received a steady stream of mail from TV and movie lovers wanting to know what it's like to do what he does. So now, at this stage in his career, during this incredible age of communication, it's finally the right time to put it all together and take everyone along for what is truly a thrilling journey.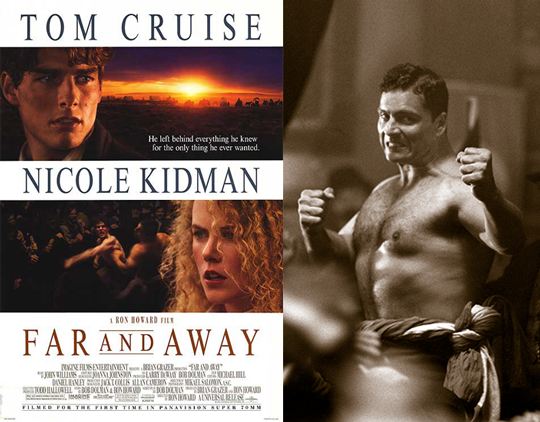 What's the Book Like?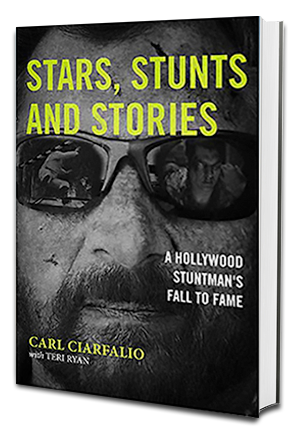 Carl Ciarfalio has create an easy-to-read collection of short stories accented with plenty of color photographs that treat the reader to intimate insider views of their favorite films, television shows and celebrities.
In Stars, Stunts And Stories: One Man's Fall To Fame Carl shares exciting stories about stunts, near misses and injuries, and his experiences with your favorite stars. He also lets you in on some of his life experiences off the set, including fatherhood, an attempted murder, and what I consider to have been the wedding of the century.
Stars, Stunts And Stories: One Man's Fall To Fame is an image-rich reading experience that combines equal parts testosterone and heart – a mixture that fuels all of the finest action you see onscreen.




Stars, Stunts and Stories: One Man's Fall to Fame Website
Carl Ciarfalio's Stunt and Acting Website