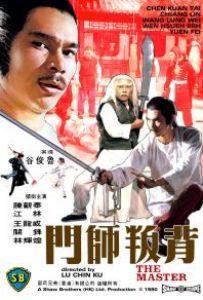 Director: Chun-Ku Lu
Producer: Shaw Brothers Studio
Starring: Kuan Tai Chen, Tak Yuen, Lung Wei Wang, Hui Huang Lin
The Master (1980), Gao Jian (Tak Yuen) is a low-ranking kung fu student who is constantly bullied. His misfortune changes when he begins to train with a wounded kung fu expert Jin Tien-yun (Chen Kuan-tai). Jin Tien-yun is forced to leave his schoool and to go into hiding by the 'Three Devils'. The Three Devils eventually kill Jin Tien-yun and Gao Jian returns a year later to get revenge for the kung fu expert's death at the hands of the Three Devils and to free Jin Tien-yun's school from the Devils.
Note: This film introduces Tak Yuen, a classmate of Jackie Chan's, who's skill as a kung fu practitioner are unparalleled among his classmates, known as the "Seven Little Fortunes*"
*The Seven Little Fortunes were also known as The Lucky Seven. They were a performance troupe consisting of the China Drama Academy's most capable students. Wit members as young as 7 or 8 years old, they traveled and showed their acrobatic and acting skills to domestic and western audiences in theatres and other venues. The school also sent these students to work for movie studios as extras and many became famous including Sammo Hung, Jackie Chan, Biao Yuen, Corey Yuen, Wah Yuen, Tak Yuen, Yuen Tai, and Mo Yuen.