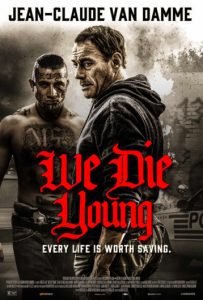 The action drama, We Die Young (2019) is written and directed by Lior Geller and stars Jean Claude Van Damme, David Castaneda, Elijah Rodriguez, Joana Metrass and Joseph Long.
Lucas, a 14-year-old boy inducted into the gang life in Washington, D.C., is determined that his 10-year-old brother won't follow the same path. When an Afghanistan war veteran comes into the neighborhood, an opportunity arises.
We Die Young (2019) is an action thriller set in a crime-ridden barrio of Washington, D.C.. When ruthless drug lord Rincon, (David Castaneda), and his Mara Salvatrucha (MS-13) gang recruit 10-year-old Miguel (Nicholas Sean Johnny) to work as a runner, Miguel's big brother Lucas (Elijah Rodriguez) is desperate to get Miguel out of the gang and safe. Fleeing for their lives, the boys are rescued by a veteran with PTSD named Daniel (Jean Claude Van Damme), who helps them find their revenge.
We Die Young (2019) came out in limited theaters on March 1, 2019.