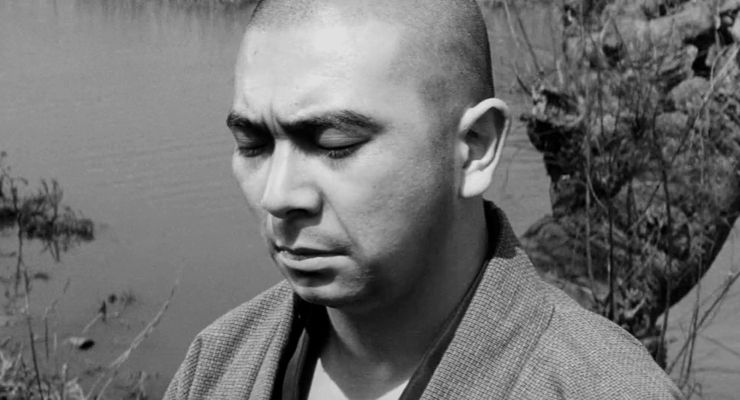 Zatoichi is a fictional character, a blind masseur and blademaster, who is featured in one of Japan's longest running series of films and a television series that are both set during the late Edo period (1830s and 1840s). The character was created by novelist Kan Shimozawa.
This originally character is a minor character developed for actor Shintaro Katsu by Daiei Studios (now Kadokawa Pictures) for the screen. There were 26 films made from 1962 to 1989. From 1974 to 1979, the television series was produced, also starring Shintaro Katsu and some of the other stars who appeared in the films. The TV episodes were produced by Katsu Productions. One hundred episodes, with episodes 99 and 100 being a two-part story finale, were aired before the Zatoichi television series was cancelled.
Blind Fury made in the US in 1990 by TriStar Pictures was a retake of Zatoichi Challenged (1967), film number 17 of the original series. Blind Fury was an action movie that starred Rutger Hauer.
The Blind Swordsman: Zatoichi (2003) was directed by Takeshi Kitano, who also played lead Zatōichi in the film. The film was awarded the Venice Film Festival's Silver Lion for Best Direction in 2003.
A stage version was also made and was directed by Takashi Miike, It starred Show Aikawa.
List of all the original films and the film's directors:
The Tale of Zatoichi (1962) Director Kenji Misumi
The Tale of Zatoichi Continues (1962) Director Kazuo Mori
New Tale of Zatoichi (1963) Director Tokuzo Tanaka
Zatoichi The Fugitive (1963) Director Tokuzo Tanaka
Zatoichi on the Road (1963) Director Kimiyoshi Yasuda
Zatoichi and the Chest of Gold (1964) Director Kazuo Ikehiro
Zatoichi's Flashing Sword (1964) Director Kazuo Ikehiro
Fight, Zatoichi, Fight (1964) Director Kenji Misumi
Adventures of Zatoichi (1964) Director Kimiyoshi Yasuda
Zatoichi's Revenge (1965) Director Akira Inoue
Zatoichi and the Doomed Man (1965) Director Kazuo Mori
Zatoichi and the Chess Expert (1965) Director Kenji Misumi
Zatoichi's Vengeance (1966) Director Tokuzo Tanaka
Zatoichi's Pilgrimage (1966) Director Kazuo Ikehiro
Zatoichi's Cane Sword (1967) Director Kimiyoshi Yasuda
Zatoichi the Outlaw (1967) Director Satsuo Yamamoto
Zatoichi Challenged (1967) Director Kenji Misumi
Zatoichi and the Fugitives (1968) Director Kimiyoshi Yasuda
Samaritan Zatoichi (1968) Director Kenji Misumi
Zatoichi Meets Yojimbo (1970) Director Kihachi Okamoto
Zatoichi Goes to the Fire Festival (1970) Director Kenji Misumi
Zatoichi Meets the One Armed Swordsman (1971) Director Kimiyoshi Yasuda
Zatoichi at Large (1972) Director Kazuo Mori
Zatoichi in Desperation (1972) Director Shintaro Katsu
Zatoichi's Conspiracy (1973) Director Kimiyoshi Yasuda
Zatoichi: Darkness Is His Ally (1989) Director Shintaro Katsu