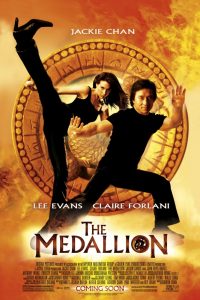 Hong Kong film director Gordon Chan wrote and directed the action comedy fantasy film The Medallion (2003). The film stars Jackie Chan, Lee Evans, Claire Forlani and Julian Sands. It was much less successful than Chan's other American films such as the Rush Hour film series, Shanghai Noon (2000) and its sequel, Shanghai Knights (2003).
The original working title of The Medallion (2003) was Highbinders. The original cut explained that Snakehead's crime organisation was involved in human smuggling, causing untold deaths. In the original plot, Snakehead planned to create an army of Highbinders to bolster his crime organisation by using the power of the medallion. This was cut from the film and instead the movie focused on the medallion. As a result of the plot changes several scene were cut and original dialogue had to be overdubbed, including a small amount of Cantonese dialogue.
When the U.S. DVD was created, over twenty minutes of these deleted scenes were placed on the DVD. This includes an alternate ending where Eddie prevents Nicole's death, along with an extended fight scene between Eddie and Snakehead's men, and there is also an alternate ending to the chase sequence between Eddie and Giscard.
In The Medallion (2003), Eddie (Jackie Chan) is a Hong Kong police officer hired by the Interpol to capture a crime lord known as Snakehead (Julian Sands). Interpol wants Eddie to to prevent Snakehead from kidnapping a chosen boy with special powers and a medallion that gives superhuman power and immortality. After a near fatal accident involving the mysterious medallion, Eddie is suddenly transformed into a Highbinder — an immortal warrior with inhuman powers. Eddie enlists the help of fellow agent Nicole (Claire Forlani) to determine the secret of the medallion and face down the evil Highbinders who so desperately want it back. Much of The Medallion (2003) features supernatural and mystical themes, however it is filled with action and comedy.
Th film began filming in Dublin, Ireland, using Dublin Castle, and the Wicklow countryside. A break from production took place while Jackie Chan shot The Tuxedo (2002), and filming resumed in Asia later in the year.
The Medallion (2003) received negative reviews from  critics and the public.
Marc Savlov said about The Medallion (2003) in the Austin Chronicle
One of the Peking Opera-trained superstar's most mediocre films, rivaling last year's God-awful "The Tuxedo" for sheer messy filmmaking and brazen acts of tedium… Abysmal.
The Medallion (2003) was, at the time, the most expensive Hong Kong production ever made. It had a budget of $41 million but its box office returned only $34,268,701. The film ultimately earned 22.2 million, was ranked number 42 among all martial arts films in the United States and 8th among the Jackie Chan films distributed in the United States.
The Medallion (2003) was theatrically released on August 15, 2003 in Hong Kong and in the United States by TriStar Pictures on August 22, 2003.