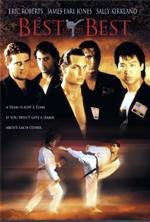 Director: Robert Radler
Writers: Phillip Rhee (story), Paul Levine (story)
Stars: Eric Roberts, James Earl Jones and Sally Kirkland
Best of the Best is a 1989 martial arts film directed by Robert Radler and staring Eric Roberts and James Earl Jones. The film was followed by three sequels released in 1993, 1996 and 1998. The plot revolves around a team of Americans facing a team of Koreans in a taekwondo tournament. There are several sub plots in the story and there are numerous themes including moral conflict and the power of the human spirit to triumph over adversity.