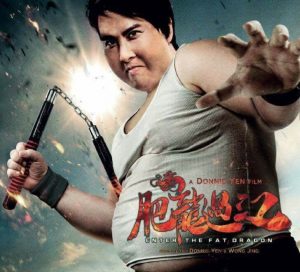 The Hong Kong martial arts film, Enter The Fat Dragon (2019), is not "necessarily" a remake of Sammo Hung's 1978 film, according to Donnie Yen, it just happens to share its title.
You may remember Donnie Yen playing a rotund character in a TV commercial in 2015.
Enter The Fat Dragon (2019) is directed by Kenji Tanigaki and Jing Wong, who also the story. The film stars Donnie Yen, who is also a producer and the action director, along with Sandra Ng, Teresa Mo, Wong Jing, Niki Chow, Jessica Jann, and Philip Ng.
Enter The Fat Dragon (2019) is about Fallon Chu (Donnie Yen) who is a Special Task Force agent for the Hong Kong Police. An agile fighter with a high crime detection rate, he is considered a role-model both within the police force as well as for the public. Fallon gets assigned to a case where he must escort a well known criminal to Japan using his experience and fighting skills to keep everyone safe during the transfer process. Unfortunately, things are not going well in Fallon's private life as he is having problems with his fiancee while they are attempting to plan their wedding. After a series of mishaps between them, his fiancee suddenly dumps him. Heartbroken Fallon eats to relieve his stress, shock and his loneliness and within three month he weighs 300-pounds.
The film was co-produced and distributed in Hong Kong and other territories by Mega-Vision Pictures.
Enter The Fat Dragon (2019) will be released in Hong Kong, China and Malaysia in August 2019.