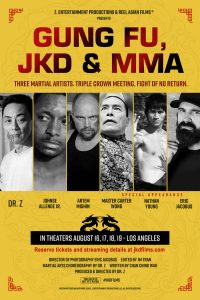 In Gung Fu, JKD & MMA, three martial artists come together in a so called "Triple Crown Meeting" to discuss, share and demonstrate their unique styles, philosophies, and techniques. But conflict escalates until the ultimate fight takes place, and from this fight there is no return.
The film stars Dr. Z, Johnse Allende Jr., and Artem Mishin, with special appearances by Master Carter Wong, Nathan Young and Eric Jacobus.
The film is produced and directed by Dr. Z. Director of Photography is Eric Jacobus and the film is Edited by JM Tran.
Gung Fu, JKD & MMA is written by Chang Ching Wah with martial arts choreography by Dr. Z.
Gung Fu, JKD & MMA premiered in Los Angeles on August 16, 17, 18, 19, 2019. Screening details at jkdfilms.com
The mission of JKD Films is to continue the art and legacy of Jeet Kune Do movies initiated by the late Bruce Lee. We want to expose JKD to a larger audience of both practitioners and fans.