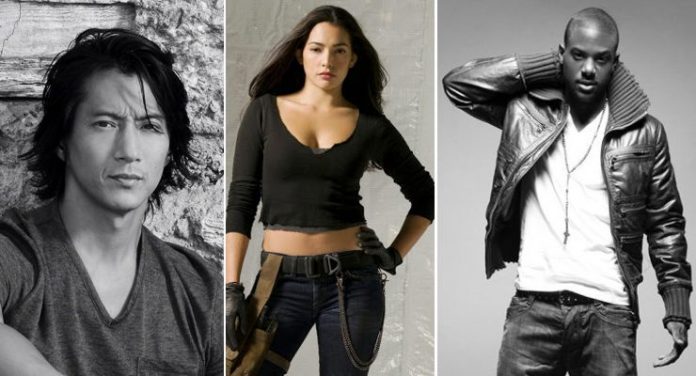 Martial Arts Pilot Warrior:
Update: Fox has picked up Warrior with all the original creative talent, but they will start over, creating an entirely new script for the Fox series.
Update: NBC has dropped Warrior, but it seems that Fox is looking to pick up the pilot.
Update: Holt McCallany has taken the role of the lead character in NBC's Pilot Warrior. He plays Andriv Vorobin a former prize fighter and expert in MMA who owns and runs a gym in New York. He is also the head of the local YOMI. McCallany trained extensively in boxing for his starring role as the aging former heavyweight boxing champion in the FX drama series Lights Out and he trained in MMA for his role in the UPN series Freedom.
Update: Rila Fukushima (Wolverine and Arrow ) has been cast in NBC's martial arts drama pilot Warrior. Her two years of training in taekwondo along with learning to use Japanese swords, the Bo staff and her fists helped her play Yukio in Wolverine. In Warrior she will play Tasu, Koto's daughter who lies in a coma in her dad's apartment and appears to Kai (Natalie Martinez) in her dreams or when she's unconscious.
Update:Will Yun Lee (Hawaii Five-0, True Blood, Wolverine) has joined the cast of NBC's martial arts drama pilot Warrior as the dangerous and deadly martial arts expert who is the head of the Japanese crime syndicate. Also cast is Crisis (2014) star Lance Gross who will will portray the former Navy SEAL, Agent Golden, along with singer, songwriter and actress Andy Allo (Attack of the Show! (2005), Dear White People (2014) and Cosmic Conflict: The Origin of Evil (2009)). Natalie Martinez (Under The Dome (2013) and CSI: NY, Death Race (2008) and End Of Watch (2012)) who will play the lead, Kai Forrester.
We've all been discussing the martial arts drama Badlands from AMC, but we just heard that NBC' first pilot order for the 2015-16 season is the Martial Arts pilot Warrior. The pilot's script is written by Traveler creator David DiGilio, who is also executive producer. DiGilio was a co-executive producer of 9 episodes of the TV series Crossbones. The project is from Universal Television and Walter Parkes and Laurie MacDonald (Flight (2012), Men in Black, Gladiator) are also executive producing the series.
The television series is set "in a grounded, contemporary multicultural and sometimes magical milieu, a damaged heroine works undercover with physical and spiritual guidance from a mysterious martial arts master to bring down an international crime lord."
We'll keep you posted about the martial arts pilot Warrior.