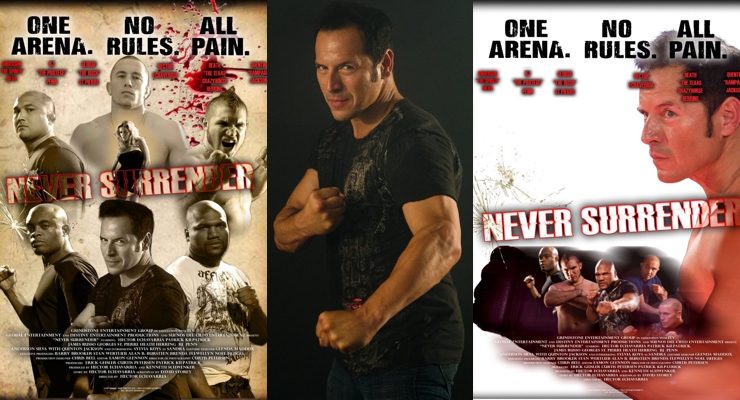 Destiny Entertainment Productions film, Never Surrender, is about an MMA champion who finds himself fighting in illegal underground cage fights. The film's cast features some of the world's greatest Mixed Martial Arts Champions. It was filmed in Los Angeles, California. It is distributed in the United States by Lions Gate Entertainment. The film is directed and stars Hector Echavarria, Patrick Kilpatrick and James Russo and fighters Georges St-Pierre, B.J. Penn, Anderson Silva, Quinton 'Rampage' Jackson and Heath Herring.
When an MMA world champion is lured into the illegal world of underground cage fighting by an elusive promoter, he quickly realizes that the only way out is to kill or to be killed. In a place where some fight for glory and some fight for the fight; he will fight for his life. Now, in his greatest effort to come out on top, he can never look back; never show weakness, never leave…and Never Surrender.
The film was released in theaters in the United States on April 28, 2009.