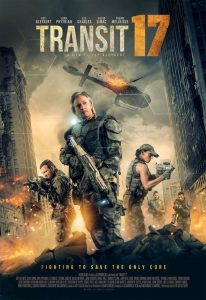 Transit 17 (2019) is a Sci-fi Action Horror film from Macromovie Film Studio. It is written and directed by Guy Bleyaert (The Last Inquisitors 2013, and Follow: Tall Tales from a Small City (2014) (2014). 
The film stars UK action queen Zara Phythian along with Lee Charles and Silvio Simac and Kimberly Stahl.
In Transit 17 (2019), a virus has infected France, Belgium and the Netherlands and an elite team of resistance soldiers must take on a suicide mission to save a young girl who seems to be humanities last hope for a cure.
Transit 17 (2019) is due out in October 2019.