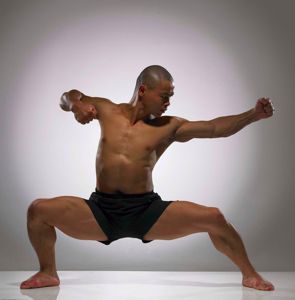 Shifu Yan Lei, 34th generation Shaolin master, and Roger Yuan, Hollywood stunt actor, are teaching a unique seminar on the 23 & 24 July 2011 about how to look powerful in a movie and be powerful in the ring.
London, UK (PRWEB) July 01, 2011
Roger Yuan will teach the workout he created to prepare Michelle Pfeiffer for her role as Catwoman, and gave Henry Cavill (recently cast as the new Superman) his physique for Immortals. He will show how to make kicks and punches look impressive in a movie as well as how to react realistically to kicks and punches. On the last day, Roger will choreograph a small fight scene so students can put what they have learnt into action.
Shifu Yan Lei will teach the initial stages of Shaolin Body Conditioning and how to use this in a real life situation. He will teach the most effective training methods to make punches and kicks quick and powerful so that the student can experience the difference between fighting in a movie and fighting in the ring.
There will be Q&A at the end of the seminar as well as an opportunity to take photos. This unique seminar is a rare opportunity to train with two incredible martial artists who met on the set of the Keanu Reeve's film they are currently working on.
This seminar is suitable for all martial artists, fighters, aspiring stunt actors, as well as working stunt professionals seeking to refresh their skills. Most of us watch martial arts movies. This seminar will demonstrate what is "real martial arts" and what is myth.
Event Details:
23rd & 24th July 2011
9.30am – 5pm – Saturday and Sunday.
Shaolin Temple UK, 207A, Junction Road, London, N19, United Kingdom
For further details on the event and to book visit:
http://shifuyanlei.blogspot.com/2011/06/hollywood-stunt-fighting-versus-shaolin.html
About Roger Yuan:
Roger Yuan is a Los-Angeles born actor, fight choreographer and stunt man. He holds a black belt in Chun Kuk Do. He has performed stunts for hundreds of movies including Shanghai Noon, Bulletproof Monk, Lethal Weapon 4 and Batman Begins.
About Shifu Yan Lei:
Shifu Yan Lei is the author of a book Instant Health: The Shaolin Qigong Workout For Longevity, and the creator of the Shaolin Warrior series of DVDs which sell in the thousands worldwide.
EVENT & PR Contact:
Cat Tyler
Yan Lei Seminar
21B, Almeida Street
London, N1 1TB
info(at)shifuyanlei.co(dot)uk
+44 (0)207 288 1231