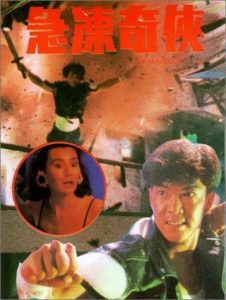 The Iceman Cometh (1989) is a Hong Kong martial arts fantasy film written by Johnny Mak and Stephen Shiu and directed by Clarence Yiu-leung Fok. The film stars Biao Yuen, Maggie Cheung and Wah Yuen.
Biao Yuen and Wah Yuen were the action choreographers on the film and the opening fight scene was filmed on location in Korea during extreme weather and snowstorms plagued the shoot and caused frostbite on some members of the crew. The fight scene took a full month to shoot.
The film was nominated for the numerous awards at the Hong Kong Film Awards including Best Action Choreography, Best Cinematography and Best Film Editing.
The film was released in the Hong Kong on August 18, 1989 and in the United States it premiered at the USA Film Festival on April 21, 1990.
In 16th century China A frozen Ming Dynasty royal guard and the equally frigid rapist-killer he's tracking are thawed out in modern-day Hong Kong.
The Iceman Cometh (1989) was released on DVD in the United States on April 27, 1999 by Tai Seng Video Marketing and was released by Hong Kong Legends in parts of the United Kingdom on July 25, 2005.