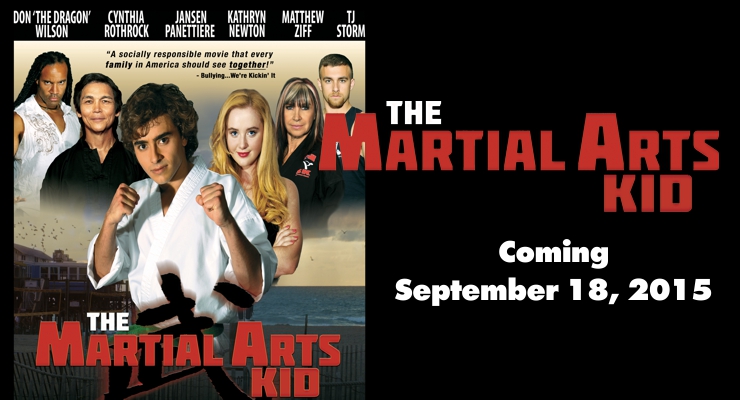 The Martial Arts Kid Trailer Revealed At 2014 Urban Action Showcase
The buzz for "The Martial Arts Kid" is getting louder.
The Martial Arts Kid co-headlined by martial arts/action-movie legends Cynthia Rothrock and Don "The Dragon" Wilson finished filming in June and premiered it's first teaser trailer at San Diego Comic-Con in July.
Now, it has premiered it's first Extended Trailer at the 2014 Urban Action Showcase and Expo on November 8, 2014 at the NYC Hilton Midtown an the AMC Theaters in Times Square.
The event was being produced by Demetrius Angelo, a writer and director best known for "3 X Harder: My Man's and 'Em"
In addition to Cynthia Rothrock and Don Wilson, "The Martial Arts Kid" cast members include T.J. Storm who also attended the premiere screening of the Extended Trailer for the film. All three stars took part in a Question and Answer session after the film.
The 2014 Urban Action Showcase and Expo also spotlighted the 30th Anniversary of the cult classic martial arts film "The Last Dragon". The star of the 1984 film, Taimak, attended, as did fellow "The Last Dragon" cast mates Ron Van Clief, Glen Eaton and Janet Bloem.
Other guests who attended the 2014 Urban Action Showcase and Expo included: "Shaft" himself, Richard Roundtree; legends Scott Adkins ("The Bourne Ultimatum") and Fred Williamson ("Black Caesar");(Hong Kong action stars Robert Samuels and Michael Woods; Clayton Prince ( "Black Ninja"); Rick Meyers, an Author and Historian "Inside Kung Fu Magazine"; Willie "The Bam" Johnson; Daniel Bernhardt; Michael Chin; Kirk Taylor; Lisa Loving Dalton; Vincent Lyn and Marrese Crump.