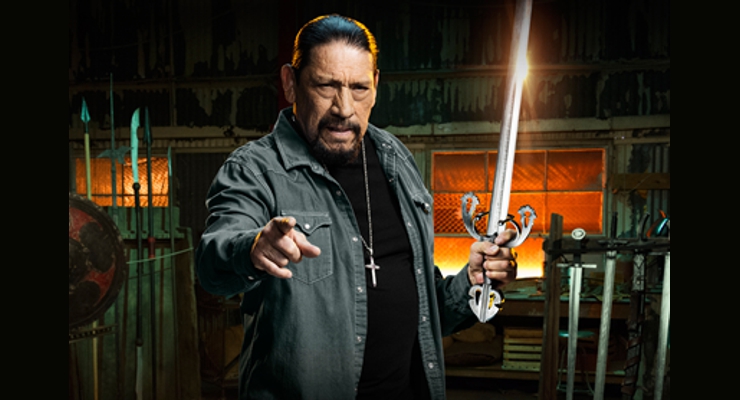 We are excited to share with you that El Rey Network's original unscripted series Man at Arms: Art of War second season will see the incomparable Danny Trejo returning as host. The original series also features martial artists including our own Gene Ching as a weapons expert as he explores weapons like the Spanish sword. We also watch the dark and beautiful Crystal Santos as she puts her strength behind the testing of unique weapons like the Haladie, a triple bladed daggar.
El Rey Network President and GM Daniel Tibbets announced the renewal today. Man at Arms: Art of War second season will continue the collaboration between El Rey Network and DEFY Media, the digital media company that created the digital series Man at Arms. The series moves to ten episodes and will debut in the second half of 2018.
'Man at Arms: Art of War' has been a terrific addition to El Rey Network's original programming slate. Our audience really responded to this exploration and celebration of craftsmanship, history and strength," said Tibbets. "Season 1 expanded the universe of the digital series and season 2 will truly test the limits of the team of expert craftsmen.
In each episode of Man at Arms, a team of expert craftsmen skillfully reproduce iconic weapons and armor from scratch, using the technology that would have been available at the time such weapons and armor were originally created, as well as state-of-the-art technologies beyond the original forgers' wildest imaginations. The builders create historical, modern, and mythological works of martial art. Each masterwork is then tested by experts for its strength and real-world functionality. Whether it slices, shoots, smashes, stabs, blocks, parries, or disarms, viewers will get a first-hand look at what kind of force each marvelous masterpiece can unleash.
DEFY Media's award-winning Man at Arms digital series consistently averages over 1.5MM views per episode and has built a vast and passionate fan community.
Man at Arms: Art of War second season will be produced by DEFY for the El Rey Network and led by DEFY's Christopher Willey, SVP OTT and Television Development.
The original deal for Man at Arms: Art of War was brokered by David Sherman at WME.
About Danny Trejo
Danny Trejo has developed a prolific career in the entertainment industry with a hard-earned and atypical road to success. From years of imprisonment to helping youth battle drug addictions, from acting to producing, and now on to restaurant ventures, Trejo's name, face, and achievements are well recognized in Hollywood and beyond. Danny has starred in dozens of films including DESPERADO, HEAT, the FROM DUSK TILL DAWN series, CON AIR, ONCE UPON A TIME IN MEXICO, and the SPY KIDS movies, MACHETE and MACHETE KILLS, the BAD ASS Trilogy and DEAD AGAIN IN TOMBSTONE and co-starred in DEATH RACE 2, DEATH RACE: INFERNO and MUPPETS MOST WANTED. On television, Danny has most recently has appeared on episodes of The Flash. He has appeared on Modern Family, Breaking Bad, Brooklyn Nine-Nine, and NCIS: Los Angeles among others. Additionally, Trejo voices characters in the animated film STORKS and THE BOOK OF LIFE. Along with lending his voice on American Dad!, Rick and Morty, Puss in Boots, Young Justice and Family Guy. He also collaborated on the new video game "Family Guy: another freakin' mobile game." Trejo recently finished shooting the horror comedy THE HOUSE NEXT DOOR, starring Mikey Epps and Kat Williams. And if you didn't think Trejo was busy enough, after the success of last year's openings of the flagship restaurant Trejo's Tacos in the Mid-Wilshire area and Trejo's Cantina in Hollywood, he has opened two new locations in Woodland Hills and USC village. Danny's newest culinary endeavor, Trejo's Coffee & Donuts, is proving to be just as successful as his tacos. Despite Danny's impressive list of credits, it's his continuous roles as a devoted father of three and an intervention counselor that bring him the most satisfaction.
About DEFY Media
DEFY is built on the idea that media should be as meaningful and dynamic as the audiences it's made for. We've done that by creating expansive and authentic content brands – SMOSH, Screen Junkies, Clevver, AWEme, BREAK and Made Man – that young people obsess over. Powered by in-house studios and the most adept talents and producers, DEFY has uniquely scaled its digital sensibility, expanding 75 regularly scheduled programs across more than 25 video platforms, including SVOD, television and film. In a world where viewers hold the power, DEFY's brands have earned more than 110 million followers on YouTube and the world's largest social platforms combined, driving more than 800MM total video views each month through content that matters to young audiences. Learn more about DEFY and our obsession-worthy brands at www.defymedia.com<http://www.defymedia.com/>
About El Rey Network
El Rey Network is a Latino-infused entertainment brand that revels in the courage, capacity, and creativity of ordinary people on extraordinary journeys. Launched by maverick filmmaker Robert Rodriguez and run by Rodriguez and his artistic collective, El Rey Network develops and produces linear and digital programming as well as integrated branded entertainment offerings. El Rey Network's flagship is a 24-hour English-language entertainment and lifestyle cable channel that focuses a distinctly Latino lens on popular culture. El Rey Network is jointly owned by Robert Rodriguez and FactoryMade with a minority stake held by Univision Networks & Studios, Inc.