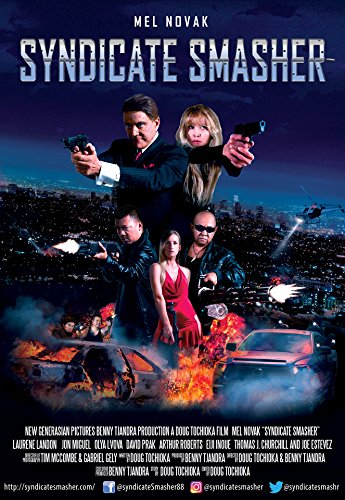 FEATURE FILM – SYNDICATE SMASHER (2017)
DIRECTED BY – BENNY TJANDRA and DOUG TOCHIOKA
WRITTEN BY – DOUG TOCHIOKA
SYNOPSIS – A group of mercenaries hired as contract killers are hunted down by the Mafia, the Yakuza, the Russian Mob, and the Tong all at once.
We were intrigued by the title and artwork of Doug Tochioka and Benny Tjandra's Syndicate Smasher(2017). It feels like an old pulp novel meets a modern action flick and includes many action stars like Mel Novak, who has starred in Black Belt Jones (1974), Game of Death (1978), An Eye for an Eye (1981) opposite Chuck Norris and more recently, Steve McQueen: American Icon (2018) opposite Mel Gibson.
Syndicate Smasher (2017) started out with a bang, and we could see why this film has been submitted to the Guinness Worlds Records organization as the film with "the most guns, bullets and bullet shots ever depicted onscreen in a motion picture", or at least the most CGI gun battles.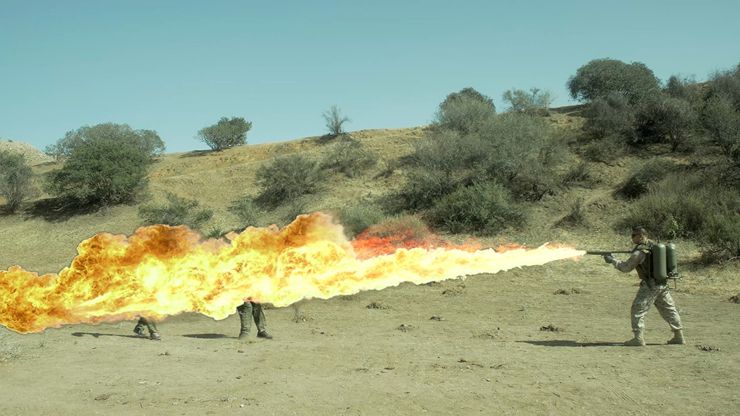 In Delibato Sands in Serbia we meet two snipers, Jack Samson, played by Jon Miguel, and Dasha Fedorovich, played by Olya Lvova. Without backup, Dasha, opens fire on a band of military clad bad guys, who, after a not so brief exchange of gunfire capture Jack and Dasha, but the two mercenaries can't be held for long.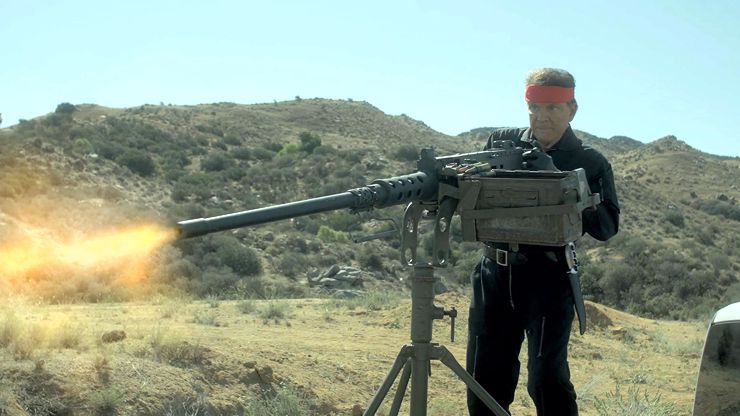 Enter Milan (Mel Novak) wearing his red Rambo-like headband while manning a mounted 50 caliber machine gun. Milan succeeds in clearing a path for his allies to recover weapons and join the fray with the help of Dara played by David Prak. Now the war begins in earnest and it includes weapons galore, including AK 47s, rocket launchers, flame throwers and more, and a very impressive onslaught of bullets. Thus we see the films four mercenaries assembled for action. It will be obvious to some that the majority of the weapons (if not all) were non-firing replicas and there was a bit too much CGI for our tastes, but, we do understand budget constraints and you have to respect the gung ho approach of the directors and applaud the actors and stuntmen for taking the simulated bullet hits and falls with a great deal of physical commitment. Novak really shines as the cold and calculating Milan and has a great screen presence.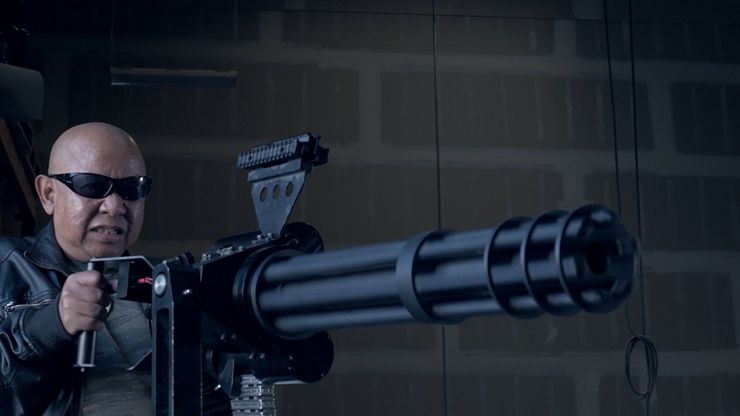 Next we are introduced to Detective Carol Driscoll, played by action star, Laurene Landon. She is known for playing "tough, two-fisted, no-nonsense action heroines, with a winning blend of fiery aplomb and cheerful good humor." Landon who has starred as the ultimate woman warrior in Hundra (1983), a definite predecessor to Xena: Princess Warrior (1989) where Laurene did all her own stunts, which she has continued to do throughout her career. She has also starred in All the Marbles, Maniac Cop, Maniac Cop 2 and most recently Sky (opposite Norman Reedus).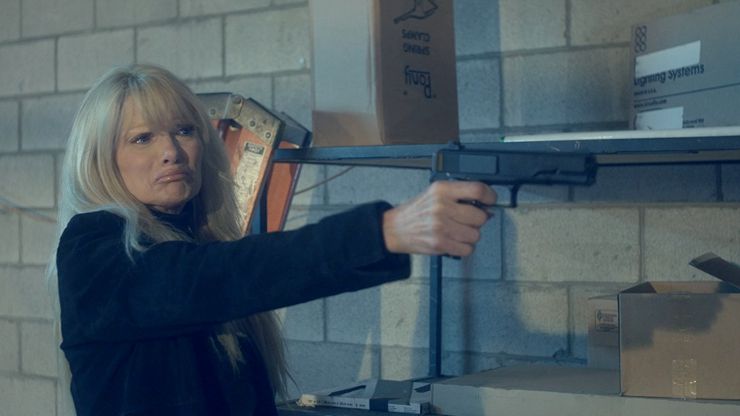 We will discover that it is for personal reasons that Detective Driscoll is driven to take down the steel-blue eyed Italian crime boss, Russell Dippolito played by Nic D'Avirro. Laurene Landon delivers a tough as nails performance while still managing to implement her comic flare. The film was filled with a variety of others actors as well, including Arthur Roberts who you will remember as Braden in Revenge of the Ninja (1983), the very funny Hidetoshi Imura, martial artist Eiji Inoue, William De Vital, Joe Estevez, and many others who delivered good performances.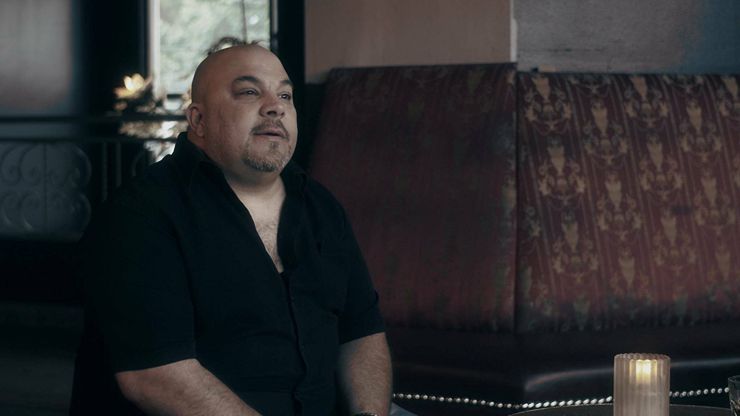 Oh, and we can't forget action and horror aficionado Thomas J. Churchill director of Check Point (2017), The Emerging Past (2017) The Rack Pack (2017) and more.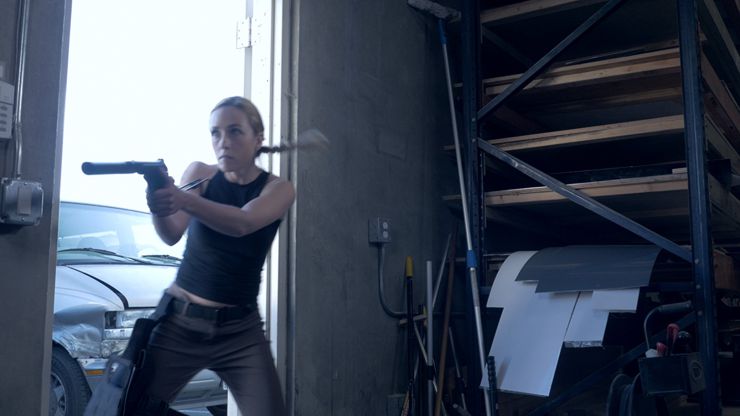 Olya Lvova was one of the protagonists that captured our attention. We found Dasha very interesting. We wish her character had been better developed and had more screen time. Olya brought youthfulness and vibrancy to the film. She was strong without sacrificing her femininity and she had a passion that was evident in both her dialogue and physical performances.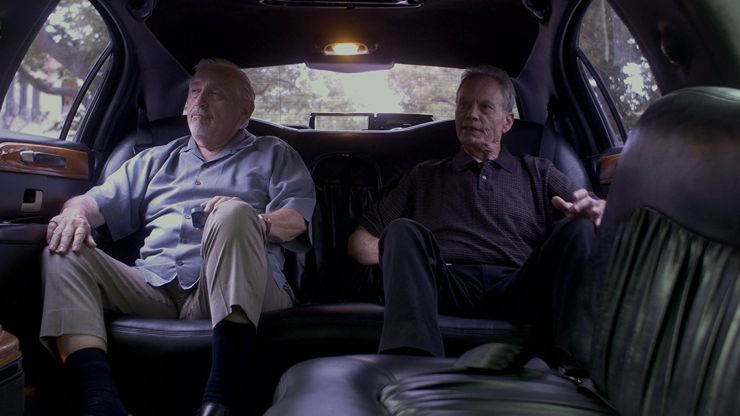 Like with Olya, when it came to the crime syndicates, there were so many different cultures and the dynamics made it difficult for any one crime family to receive the required screen time to allow any of them to evolve.
We would love to have seen a little hand to hand combat, possibly using Jon Miguel and Eiji Inoue as both have good unarmed skills. Some good old fashioned fisticuffs would have broken up the CGI and benefited the film.
As independent films go, this was definitely a huge undertaking and we truly respect the ambition of all involved. Not perfect, but a great homage to the classic action films of the 80's and 90's such as The Delta Force (1986) and the Rambo franchise. Syndicate Smasher (2017) is wonderful hybrid of The A Team (1983) meets The Expendables (1988).