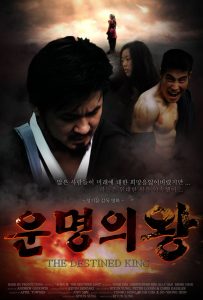 The Destined King (2015) is the first Korean fusion-historical short film shot entirely in the United States. It falls in the action/adventure genre, with martial arts choreography by award-winning choreographer, Joey Min. The Destined King (2015) is directed by Kiyun Sung and produced by Baek Ho Productions. The film stars Hugh Cha as Yushin, Elly Han as Yong-Mi, Christopher Kim as Sanggun, Mihee Lucia Choe as Ji-Won.
The Destined King (2015) received an Honorable Mention in the Best Action/Adventure Category in the Asians on Film Festival Summer Quarter 2015, and recently received the 'Best Short Film' Award in the Urban Action Showcase.
The Destined King (2015) is pending confirmation from other film festivals, but will make its home on the Baek Ho Productions YouTube Channel in the summer of 2016.
The Destined King (2015) follows the story of veteran warrior, Yushin (Hugh Cha), as he flees from the carnage of political chaos with an infant destined to be King. However, Yushin must first confront his former student, Sanggun (Christopher Kim), who will go to any length to ensure that the throne is his and his alone.