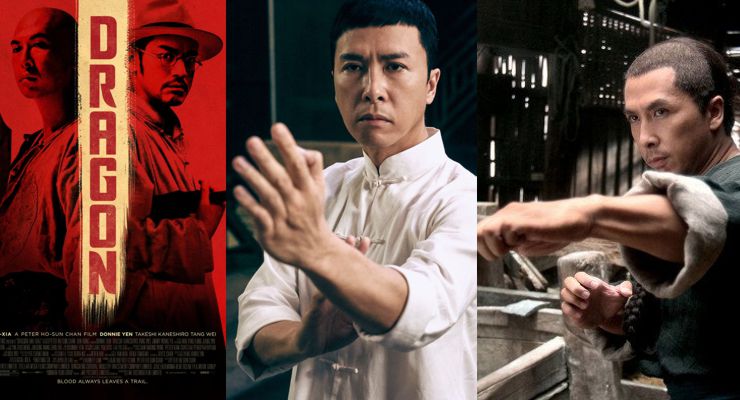 The first-ever Donnie Yen Fan Event will take place at the The Royal Cinema, (608 College St, Toronto, Ontario, Canada). This will be an unforgettable afternoon of "kung-fu chaos". The event takes place on May 7, 2016 from 4:00pm to 6:45pm.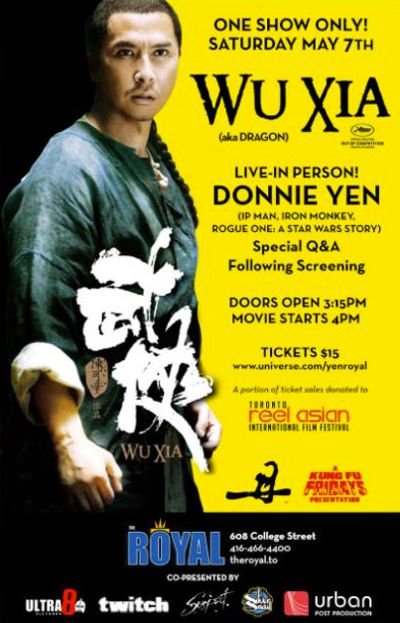 Onstage, Donnie Yen will introduce a screening of his acclaimed martial arts epic, Wu Xia (2011), also known as Dragon, and discuss his illustrious career with a Q&A moderated by Colin Geddes, programmer of The Royal and of TIFF's Midnight Madness selection.
Tickets can be purchased online.
This Donnie Yen Fan Event will benefit the Toronto Reel Asian International Film Festival with a portion of the event's proceeds. The Toronto Reel Asian International Film Festival is a growing festival that brings the best of Asian cinema to Toronto. Visit the Reel Asian website for more information.
The Donnie Yen Fan Event is presented by Geddes' Kung Fu Fridays film series, which has recently re-launched at The Royal Cinema.
In Wu Xia, Donnie Yen plays a seemingly shy peasant in a small village in Southwestern China whose past comes to haunt him as he and his family become the targets of a clan of ruthless bandits intrigued by the existence of this reluctant warrior. In Chinese cinema, drama tales built around martial arts feuds are a classic tradition, like the American western. Wu Xia's star and action director, Yen and acclaimed director Peter Chan (Warlords) reinvent the glory of Hong Kong martial arts cinema from the '60s and '70s, boasting sharp production design and locations that bring to life a rural town in 1917 China that one wishes still existed today. Chan's casting of iconic Shaw Brothers kung fu stars including the legendary Jimmy Wang Yu  of The One-Armed Swordsman (1967) as the leader of the bandits is truly inspired. An Official Selection at the 2011 Cannes International Film Festival. (In Chinese with English subtitles)
With a career spanning over 30 years, Donnie Yen is one of the most popular and beloved action stars in the world with credits including Iron Monkey (1993), Hero (2002), Shanghai Knights (2003), Blade II (2002), SPL: Kill Zone (2005), and Once Upon a Time in China II. His role as Bruce Lee's master in Ip Man (2008) launched him to a new level of international fame and spawned two blockbuster sequels. In North America, his profile has never been higher, with starring roles in Netflix's Crouching Tiger, Hidden Dragon: Sword of Destiny (2016) and the eagerly anticipated Rogue One: A Star Wars Story (2016). And keep your eyes peeled: he's in Toronto filming xXx: The Return of Xander Cage.