Andy On is a Chinese American actor. He was born on May 11, 1977, in Providence, Rhode Island. Andy did not grow up learning martial arts, but he had always loved Jackie Chan movies and would emulated his moves including flips and kicks at home. In early 2000, while working as a bartender in Rhode Island, someone suggested Andy On become an actor. Andy didn't like being a bartender and decided to head for Hong Kong to begin an acting career.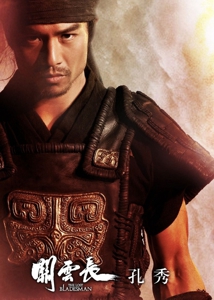 Once in Hong Kong, Andy On was approached by China Star founder Charles Heung and world renowned filmmaker Hark Tsui to take over the role of one of Jet Li's famous movie character, Black Mask, in Black Mask 2: City of Masks (2002). Despite the poor reviews and the bad box office, Andy continued to act and, in fact, improve in not only martial arts but acting as well. Like fellow Hong Kong film star Nicholas Tse, Andy trained in martial arts under Chung Chi Li, the leader of the Jackie Chan Stunt Team. He began training with him in 2001 for the film Looking for Mister Perfect (2003), which was released 2 years later. Andy On trained in wushu at the Shaolin Temple and studied film fighting under former Jackie Chan Stunt Team leader Nicky Li for his first film, Looking for Mister Perfect (2003), which was shot before Black Mask 2: City of Masks but released in 2003.
Andy continued his acting career and has had his fair share of injuries, sustaining a hamstring injury on the set of New Police Story (2004) in one of the two fights against Jackie Chan. During production of The Three Kingdoms: Resurrection of the Dragon (2008), Andy was hit in the face by a stuntman during an action sequence. Andy cut his lip and after seven surgeries, sports a small scar on his lip. He considers the scar a "trophy" for his hard work in the film. He sustained a back injury on the set of Guan yun chang (2010) and used a ancient Chinese method known as "Gua Sha," to improve healing.
In 2004 Andy was nominated and won the Hong Kong Film Award for Best New Actor Award for his Tank Wong role in Star Runner (2003). Also in 2004, Andy On shared the screen with the man who influenced him, Jackie Chan, in New Police Story (2004).
Besides acting, Andy is also a singer. He has released some tracks, including a duet with Jolin Tsai called Angel of Mine and others. His hobbies are martial arts and video games. He continues to train in Wing Chun Kung Fu with good friend, actor and martial artist Philip Ng, and has studied Thai boxing under former world kickboxing champion and actor Billy Chau in preparing for Star Runner.