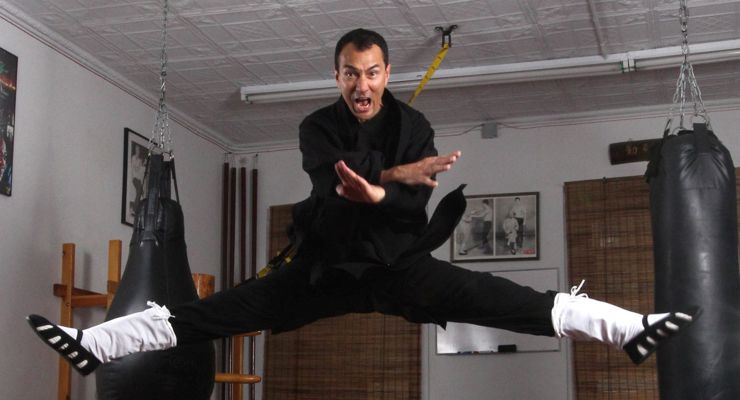 As I was being inducted into Grandmaster Jessie Bowen's 2018 AMAA WHO'S WHO in the Martial Arts Legends Awards Banquet on August 4, 2018, I was fortunate enough to make a new friend, Dr. Vincent Lyn. Vincent's Chinese name is Yong Sheng. Yong Sheng means "forever winning" and it is the Chinese name of the model, martial artist, actor, musician, writer, stunt performer, humanitarian and Knight, who was born to a Chinese father and a British mother.
You know instinctively when you meet Dr. Vincent Lyn that he is worth learning more about. As you begin to peel away the layers that make up the man, the more impressed you'll become. Vincent Lyn is tall, good looking and speaks in a soft voice with remnants of a British accent. He was born in Yemen as his father was stationed there with the British Royal Air Force. At two years old Vincent and his family moved to Ethiopia, Khartoum (Sudan), Algeria, Netherlands, then England. He emigrated to the United States at age 16 and then to Hong Kong after his university studies. Not coincidentally, Vincent's multi-linguistic son, who is also a recent USA university graduate, now lives in Hong Kong.
I was introduced to Vincent by a mutual friend, martial arts movie star, femme fatale and featured guest of the event, the "Lady Dragon", Cynthia Rothrock. Cynthia left me with Vincent, saying "Vincent is my oldest friend (in terms of length of time not chronologic age) and an amazing person to know."
Cynthia was right!
If you look up the definition of a Renaissance man, you may very well see a photo of Vincent Lyn. His talents, abilities, skills and interests are far-reaching and as diversified as anyone I've ever met. In the following paragraphs I will attempt to summarize a few of his many accomplishments as they are truly vast and impressive.
Modeling
Vincent was an elite model for several major, highly sought-after corporations such as Gucci, Yves Saint Laurent, Levi's, Valentino, Puma and Adidas.
Martial Arts
Vincent Lyn began studying martial arts at age 8. He learned Tai Chi from his uncle and later mastered his family style (Gar) Kung Fu Ling (or Lyn). Kung Fu looks pretty and is often thought of as a martial art that is performed for its artistry. Vincent has excelled in not just the art of Kung Fu but in its application as well. Vincent Lyn was the 1983-1984 U.S. National Middleweight Kickboxing champion, and 1985 and 1987 World Kickboxing champion. He is a 10th black sash Grandmaster who has been invited to teach martial art workshops around the world. In 2016, he taught 700 people Tai Chi and Ling Gar Kung Fu in a soccer stadium in Portugal. Jackie Chan has said that Vincent was one of the best fighters he had ever worked with. In 2007 Vincent Lyn was invited as a special guest to the first Martial Arts Olympics East-West Open in St. Petersburg, Russia. In the opening ceremony, he demonstrated his superb martial art skills in front of 20,000 spectators and also performed a piano solo, which surprised and dazzled the audience. He has been inducted into many Martial Arts Hall of Fame including an award for Grandmaster of the Year from the World Martial Arts Hall of Fame and a Lifetime Achievement Award from the Action Martial Arts Magazine Hall of Fame. At the event this weekend, Vincent received a Legend Award for Who's Who in the Martial Arts – a high level accomplishment in the Martial Arts world.
Acting
As a young lad, Vincent Lyn studied poetry, prose and elocution at the Royal Academy of Dramatic Arts in England. After moving to the United States, he studied acting in New York for a couple of years and after graduating university, moved to Hong Kong to try his hand at an acting career. Vincent Lyn made use of his martial arts training in his transition to the movies. He landed his first movie role in Tiger Cage (1988)– made by internationally acclaimed film director Woo-ping Yuen. Ping has been involved in such movies as The Matrix (1999), Crouching Tiger Hidden Dragon (2000), Charlie's Angels (1976) and Kill Bill (2003). This movie was a big hit in the Asian market; Vincent was in high demand which fortunately lead to him playing roles in more than 25 movies, including Blond Fury (with Cynthia Rothrock). His film career has included playing a lead villain fighting superstar Jackie Chan in Operation Condor. Dr. Vincent Lyn has been awarded the Fists of Legends "Hong Kong Legends Cinema Award" at the Urban Action Showcase Expo in New York sponsored by HBO/Cinemax. He was inducted into the World Martial Arts Hall of Fame as the Best Martial Arts Actor of the Year. He has starred in two action sci-fi thrillers. Beast (2015) directed by Robert Samuels and When Dragons Awake written and Directed by Stacey Adams. Vincent Lyn is starring in a new film project Man of War being filmed in South Africa about human trafficking. He's taking on the role of a principal actor and Production Consultant – for his expertise in child trafficking (see below).
Security
Vincent Lyn has applied and expanded his martial arts training to the field of corporate security in which he is now considered to be an international expert. He works and consults in executive protection, threat assessment, air security, and other security domains. In 2003, he founded Pro-Force Security Corp based in New York City. He has primarily worked in the corporate sector and provided bodyguard protective services for the rich and famous – none of whom he is allowed to disclose…(more about the significance of this below).
Writing
Vincent Lyn has taken his knowledge of the martial arts and his other endeavors and put them into print. He has written numerous articles for Budo Magazine (the World's leading martial arts publication) and authored seven instructional videos, which have been released in seven languages and distributed in 54 countries! He has been featured in books, magazine covers (over 20 cover appearances) and has appeared in over 200 magazine and newspaper articles throughout the world. His first book The Ling Gar Legacy – Kung Fu in the Real World came out in 2009 with a foreword written by Woo-ping Yuen. Lyn co-authored a comic book titled Kung Fu Star based on his stories as a film star. The first issue was released in 2010 as a monthly series in Budo Magazine and re-released internationally at the NYC Comic-Con in 2012. Sports Medicine: Through martial arts and physical conditioning, Vincent developed a passion for Traditional Chinese Medicine and Sports Medicine. He avidly pursued research into optimum physical conditioning/range of motion and this lead to writing a thesis and an honorary PhD in Sports Medicine from Yale University. In 1999 he was inducted into the World Sports Medicine Hall of Fame for making outstanding contributions to the field of Sports Medicine for his breakthrough research on PNF (proprioceptive neuromuscular facilitation – which is now a standard form of stretching used in all sports activities).
Education
In conjunction with his external work in martial arts, Vincent also has a passion for knowledge on our contemplative practices and internal processes. He completed his doctorate (PhD in Philosophy) at the International College of Asian Studies, with a focus on Taoism and Confucianism.
Knighted
During my interview with Vincent, I asked him to tell me about himself; awards, accomplishments and accolades. As I was finishing writing this article, I texted Vincent to ask if there was anything else that he could think of. He replied, "Oh yes, I forgot to mention that I was knighted in Italy in 2017 and officially a member of the National Order of Sports Chevalier; Sir Vincent Lyn." My only comment is that life must be pretty darn fulfilling for someone to forget that they were knighted. It's not that this award is not meaningful to Vincent, as he explains, "success is not what we accomplish, it's what we can do for others."
Social Justice
Creative Director for African Views, an NGO charitable organization with the United Nations and whose mission includes: identifying and bridging cultural gaps, facilitating improvement of social and economic ties and promoting global partnerships for the advancement in the humanities. Focusing on cultural sustainability and cultural harmony, their projects include: cultural exchange programs and panel discussions in the areas of health, education, environment and economy. In this role, Vincent has presented his "on the ground" observations and research to African Views.
When people refer to "Don't just talk the talk, but walk the walk", Vincent is the living example of this. He has witnessed first-hand atrocities, rapes and murders of women and children, mass killings and ethnic cleansing. He has been shot at and come within seconds of having his own life taken at the hands of Sudanese Rebels. What would have stopped most people, inspired Vincent to work even harder for those in need.
Humanitarian
On a bodyguard mission for a VIP in Ghana, Vincent visited a shelter where 20 children (ages 5 – 15) had just been rescued from slavery. He recalls seeing the fear in their eyes, how that look stayed with him and inspired him to become involved – offering help, in some way. He started promoting awareness and raising money for rescue and recovery project of these trafficked children. Contacted by many people and local CBO (community-based organizations) in Africa looking for help; one of these contacts was in Uganda. Wanting to see the situation in person (Vincent adheres to the philosophy of "being active on the ground level to get things done, not just talk about it.") he traveled to Kampala and witnessed children starving to death and struggling to survive. He knew that helping alleviate this suffering was to become a life mission.
Since that time Vincent has become the Creative Director for a NGO – African Views (leading conferences at the International Peace Institute and the UN), become an Economic and Social Council to the United Nations (ECOSOC), and started a nonprofit organization – We Can Save Children – whose mission is to rescue and recover children in Africa and the Middle East. Whether these children are orphans, refugees, or poverty-stricken, the goal is to protect and provide aid (funds, resources and guidance) to help these children survive. Vincent is truly making a life-saving difference in the lives of these children – not just donating money, but being there for months at a time, personally helping save children from slavery, starvation, and dying from disease. His We Can Save Children organization provides them access to an education and an opportunity for a better future …and for the first time in their lives – hope!
One of his newest projects involves over 1,200 orphaned children from Rwanda, South Sudan and Uganda in 3 different orphanages in Uganda. Vincent's foundation provides food, shelter, medications, clothing and an education as well as important vocational skills. He has also purchased agricultural land, so they can be self-sustainable in terms of food.
Important Disclosure: I receive no benefits of any kind in relation to We Can Save Children. I am not affiliated in any way except as a charitable donor. I am promoting this out of a desire to help. I have been involved as a volunteer as a pediatric anesthesiologist on many "3rd World" medical missions, including Africa and have personally seen the need and felt the passionate desire to help these kids that Dr. Vincent Lyn has described. I applaud his efforts and inspired actions!
His life is an interesting and inspiring example of how one's journey can be both dynamic and fulfilling. "I remember that during my college days I would spend six hours practicing piano at the Boston Conservatory and then cross Fenway Avenue to a park where I would practice Kung Fu for a couple of hours. Music and Kung Fu are like Yin and Yang in my life. My goal is to keep both balanced. As an artist, I have to be very focused regardless at which one I am working".
When asked, Vincent admitted that he had never heard of Vision Boards and had little faith in simply asking the universe. "Planning, hard work, being on the ground taking action, believing that we are placed on this earth to help others and perform a greater good", is how he describes his efforts.
Among the many things Vincent and I share in common is our belief in this quote from Winston Churchill,
We make a living by what we get, but we make a life by what we give.
Thank you, Sir Dr. Vincent Lyn. I am honored and humbled to know you and look forward to our mission trip to Uganda. When some people refer to doing good they really mean doing well. Vincent Lyn is an example of someone who both does good and does well.
Do good and be well,
Neil Farber