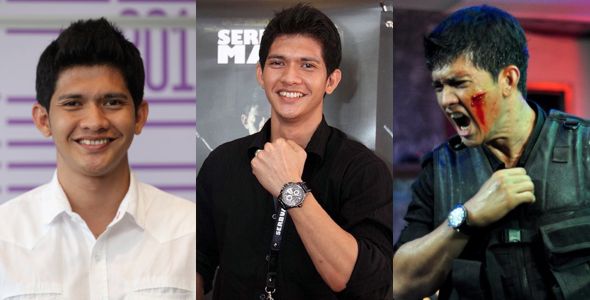 Iko Uwais is an Indonesian actor, stuntman, fight choreographer and martial artist. He is best known as the leading star of the action films Merantau (2009), The Raid: Redemption (2011), The Raid 2: Berandal (2014), Mile 22 (2018) and Triple Threat where he stars with fellow martial artists Tony Ja, Tiger Hu Chen,  Scott Adkins, Celina Jade, Michael Jai White, Michael Bisping and JeeJa Yanin and numerous others. He also stars in the Netflix series Wu Assassin with martial artists Katheryn Winnick, Lewis Tan and Mark Dacascos about a warrior chosen as the latest and last Wu Assassin who must search for the powers of an ancient triad and restore balance in San Francisco's Chinatown.
He was born on February 12, 1983 in Jakarta, Indonesia. Iko Uwais began studying silat Betawi at his uncle's training hall, Tiga Beranti when he was 10 years old. In 2005, he won first place at the National Pencak Silat Championship as the best performer in the demonstration category.
Iko Uwais silat skill has given him the opportunity to travel to many countries to take part in exhibitions. He has traveled to the United Kingdom, Russia, Laos, Cambodia and France.
In 2007, Welsh director, Gareth Evans, was filming a documentary about silat using Iko Uwais' training hall. While there, Evans discovered that Iko Uwais had great camera presence and a natural charisma. Evans took a chance with the young man and cast Iko Uwais in the leading role of Yuda in the martial art movie, Merantau (2009). Iko Uwais signed a five year contract with Gareth Evans and his production company, and quite his day job to become an actor.
In the movie Merantau (2009), Iko Uwais played the role of a young Minang (West-Sumateran). This was his first acting role in a movie. He learned the Minang style of silat harimau (tiger style) from Master Edwel Datuk Rajo Gampo Alam for his role in Merantau (2009), which was released in Indonesia on August 6, 2009. The film was featured in South by Southwest (SXSW) Festival in Austin, Texas and Puchon International Fantastic Film Festival in South Korea. Merantau (2009) received very positive reviews. In 2010, Merantau won the Best Film award at ActionFest 2010.
On his site, Rising Sun Tokusatsu on Facebook, movie reviewer Inui Takumi said of Iko Uwais' performance in Merantau (2009),
"…he brings a bit of innocent charm that adds a lot to his performance. Apparently the director, Gareth Evans, was drawn to this quality as well as his enthusiasm when he encountered Iko years before while shooting a documentary on the art of Silat. He says that he saw a star quality in him and immediately worked to get him working on his first film. Granted, he may not have done too much as far as intense acting in this movie, but he shows sparks of something more in his talent that once honed, I think his talent and personality could definitely raise him to martial arts legend status."
Iko Uwais' collaborated with Gareth Evans on Evans next martial arts movie titled The Raid: Redemption (2012). Iko Uwais and Yayan Ruhian served as co-fight choreographers of The Raid. The movie began filming in the middle of March of 2011 and was released in the middle of 2012. Critics and audiences in various festivals said that The Raid was one of the best martial art movies in years.
Iko Uwais made a third movie with Gareth Evans. It is called The Raid 2: Berandal, which means "Thugs" in Indonesian. This sequel to The Raid was filmed in 2013 and released in 2014. Iko Uwais played Razoo Quin-Fee in Star Wars: Episode VII – The Force Awakens (2015) and Sua in Beyond Skyline (2015),Li Noor in Mile 22 (2018).