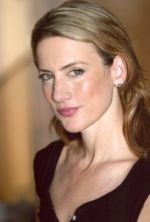 Did you know that the 7th ANNUAL ACTION ICON AWARDS honors Women in Action? The 2014 Awards took place recently at the Skirball Cultural Center in Los Angeles, California. Director, actress and stuntwoman, Melissa Tracy, covered the event for MartialArtsEntertainment.com. She gives us a VIP view of the stuntwomen, the action-oriented actresses and sports stars, and the Diamond in the Raw teen girl filmmakers who are honored at this years event. She also gives us a peek at the movers and shakers that put on this gala event, and a look at the stars that attended.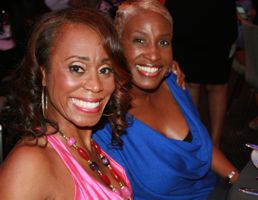 The 7th ANNUAL ACTION ICON AWARDS was an inspirational event, so get ready to be inspired!!!
Let's start by meeting LaFaye Baker, the Founder of the Diamond in the Raw Foundation and the ACTION ICON AWARDS. She is here with her cousin and strong supporter Cherie Oysaifo.
LaFaye Baker had a dream to empower the lives of both foster care and at risk-teenage girls. She was determined to do this by encouraging self worth, and by providing education in entrepreneurship, filmmaking, the entertainment industry, and by teaching about health and fitness. Her Diamond in the Raw Foundation is devoted to empowering and transforming the lives of foster care and at-risk teen girls between the ages of 12-18 through the arts and
S.T. E. M. education.
One of the ways she accomplishes this is with the ACTION ICON AWARDS. The awards ceremony helps raise funds for the Diamond in the Raw Foundation. But more importantly, it honors the accomplishments of the teenage girls who have gone through the organization's programs, and Women in Action who contribute so much to the entertainment industry.
This is where Melissa Tracy takes us today, to the 7th ACTION ICON AWARDS so we can meet the stars and help honor Women in Action!!!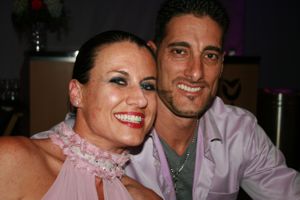 First we meet Rebecca Morley and her husband. Rebecca is the commercial production manager and film mentor to the young ladies in the Diamond in the Raw Foundation. Let's talk with Rebecca and let her give us a bit more information.
Me: Rebecca, can you tell us how this program works?
Rebecca: The teens learn all aspects of filmmaking for approximately 16 days and then made their own short film. The film they made this year is called Heirloom.
Me: What made you decide to become involved in such a program?
Rebecca: We have to provide for the children of our future, because no one else will. I stepped up to the plate because I was tired of complaining about it. I was inspired by that quote by Lily Tomlin,
"I always wondered why somebody doesn't do something about that. Then I realized I was somebody."
Me: This is something you do every year, correct?
Rebbecca: Yes, and we are welcoming young ladies to attend for next year. If you know of anyone who would like to join, please have them contact us through Diamond in the Raw Foundation.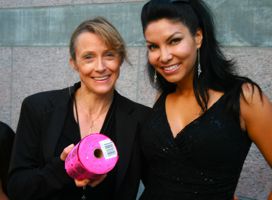 As I check in I see Jeri Kalvan and Crystal Santos. Two amazing women of action! Theses ladies are the Stunt Coordinator and Co-Stunt Coordinator of the Action Icon Awards and the Stunt Coordinating Seminars. Every year the Diamond in the Raw Foundation in association with the SAG/AFTRA puts on a three day seminar teaching stunt women how to become Stunt Coordinators and 2nd Unit Directors.
Jeri and Crystal offer to sell me raffle tickets to win a Full Day Stunt Contract donated by Stunt Coordinators TJ White and Jeff Wolf. I buy a ticket and the proceeds go to the foundation.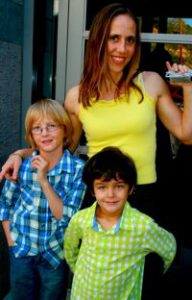 Look who else is here, stuntwoman Tree O'Toole. If she looks familiar its because you saw her last week in the movie Anabell and she can soon be seen as a stunt performer in Furious 7. The Celebrity children she is with are actors, stunt performers and circus trained, the one and only Oz and Max Kalvan. Wow, thanks, I know they appreciate the applause.
Talk about so much talent in one place, lets see who we can spot on the Red Carpet!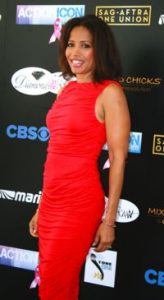 Looking beautiful in red, we have Angela Meryl. Angela is one of our Stunt Presenters, also a finalist in the Dynamic Duo Award and Stunt Woman of the Year Award. I am certain you have seen Angela working in Kill Bill, Fast and Furious 7, Sky Fall 007 or anyone of over 50 films and TV shows she has worked in.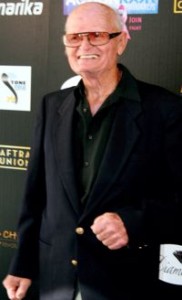 Next is stunt man and action icon Bob Yerkes. He has been doing stunts for over 65 years. Incredible! Bob is a very strong supporter of the ACTION ICON AWARDS.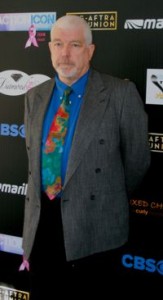 Look at Andy Armstrong, nice tie, Andy! As you know, Andy is a very active Stunt Coordinator and supporter of the ACTION ICON AWARDS. Today he will be a Stunt Presenter.

Let me introduce to you the beautiful and talented Actress/Stunt woman Cheryl Lewis. She is one of the finalist for the Jewel Award. We're crossing our fingers for you Cheryl. Cheryl has been keeping very busy as stunt double on the TV show State of Affairs, in the movie Bolden and in the biography Straight out of Compton.
Next is the stunning and gifted Stunt Woman Aimee Zannoni. You may recognize her from TV shows Kirby Buckets, Henry Danger, Hawaii Five-O.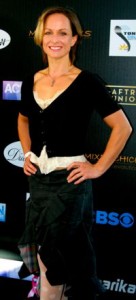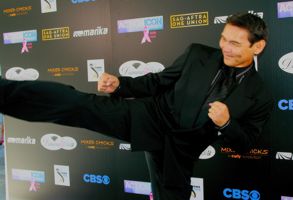 Wow what a kick! Yes, you guessed it! There's Don The Dragon Wilson! Don is a Special Presenter today and as you know he is an 11 time kickboxing world champion who scored 47 knockouts in four decades. Now he is a very busy action star. His newest film, The Marital Arts Kid, will be coming to a theater near you very soon.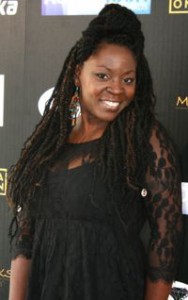 This lovely Actress, Desreta Jackson-Battle, was in the Color Purple and is a strong supporter of the ACTION ICON AWARDS.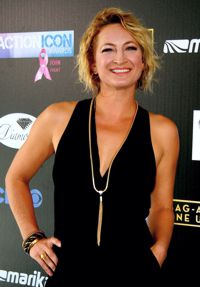 This is so exciting, do you see who is walking down the red carpet now? The Star of Oblivion, Raze, Game of Death and the Stunt Double for Uma Thurman on The Kill Bill films and for Lucy Lawless on Xena. Have you guessed who it is yet? Yes, its Actress and Stuntwoman, Zoe Bell. She is an Honoree today for the Diamond in the Raw Award. What a thrilling afternoon! Zoe Bell is with the very talented, beautiful and continuously hard working stunt woman Tamiko Brownlee. Tamiko and Zoe Bell worked together in Mercenaries.
Let catch Tamiko Brownlee, lighting up the red Carpet with active stunt performer Tom Crisp. With over 42 credits to her name, Tamiko is a cutting edge stunt performer.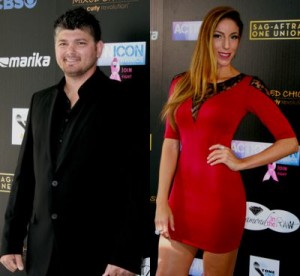 Meet TJ White. He is a Stunt Coordinator and owner of T-Minus Productions. TJ is a Presenter today. He and Jeff Wolf have generously donated a stunt contract for one day to the Diamond in the Raw Foundation Raffle. Who is the lovely lady with him. It's Lauren Pacheco the Vice President of T-Minus Productions.

Wow, what style! This lovely athlete and action lady is Amy Purdy. She is being honored with the Dare2bdifferent Award. Not only is she ranked as one of the top adaptive snowboarders in the world, but she co-founded Adaptive Action Sports. AAS helps those with permanent disabilities to get involved in action sports. She also was the runner up of ABC's dancing with the stars.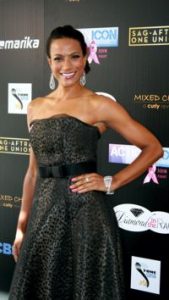 Next, Devika Parika graces the red carpet. This elegant actress is remembered from Rizzoli & Isles, Prime Suspect, Good luck Charlie, Three Rivers, Everyone Hates Chris, Criminal Minds or from one of her other 50 credits. We are lucky to have her presenting today!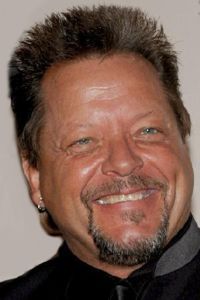 Danny Weselis, is being honored with the Special Achievement Award and is one of the Gem Award Finalist. Unfortunately, Danny Weselis passed away. His family will be accepting his awards in his place.
Look who just flew in from Texas, Cheryl Wheeler. Cheryl is a 3 time WKA super bantamweight world champion in women's kickboxing. Her career as a stunt performer spans over 30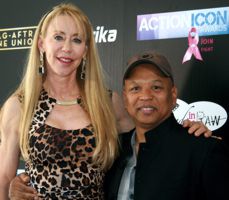 years. She is being honored today with the Helen Gibson Award. She is with one of her fellow producers from The Martial Arts Kid, Ewart Chin.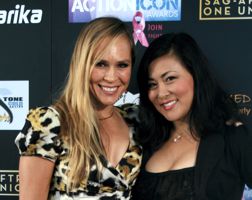 These two breath taking beauties are a couple of our hard working stunt ladies and actresses who support the ACTION ICON AWARDS, PeiPei Yuan and Vanessa Vander Pluym. If you watch television you may have caught one PeiPei's many commercials or you may have seen her work on Fresh Off the Boat.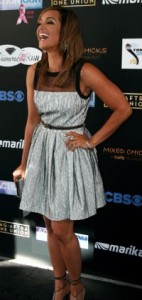 Vanessa Vander Pluym is a working actress and stunt professional whose motion capture work can be seen on many videos games from Star Wars, Dante's Inferno to Warhammer on line, or on TV shows such as NCIS, Southland, and Castle.
This bundle of energy radiating like a Diamond is Presenter Tammy Townsend. I am certain you will remember her from CSI, Daddy Home, Saving Grace, NCIS or one of the 57 other TV and film credits she has.
With all this energy it will definitely be an exciting awards show!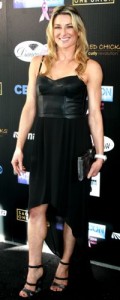 Its not long before another ball of energy hits the red carpet, Ms. Heidi Moneymaker. You know Heidi's work well as she is Scarlett Johansson's stunt double for movies such as The Avengers, Captain America, and Iron man 2. She has also doubled for many other celebrities. Today, Heidi has taken the time out of her extremely busy schedule to be a Presenter!

No, this gentleman showing us his beautiful shoes is not Tom Hanks older brother, but the Master of Ceremonies, Kenny Mayne. Full of life, this commentator is anchor for Kenny Mayne's Wider World of Sports and The Mayne Event.
Let's follow Kenny Mayne inside the elegantly decorated Skirball Cultural Center as attendees are beginning to enjoy the lunch.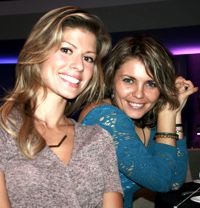 Inside we find two action actresses from the film The Martial Arts Kid, Inga Van Ardenn and Vicki Vodar.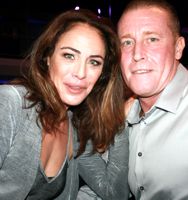 Guess who else we found! Honoree of the ACTION ICON AWARDS, Yancy Bulter and with her husband, Jason Small. Yancy has been busy in action roles for the last 20 years. She has worked with action director John Woo in such movies as Hard Target also in the TV series Witchblade. I asked Yancy what she thought of the event and she replied that she felt so honored to be at this amazing event.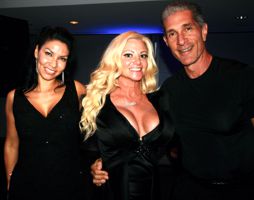 Here are some hard working Stunt Coordinators taking time to enjoy the luncheon. Crystal Santos with Julie Michaels, who is also a member of the voting committee, and her husband PeeWee Piemonte. Both Julie and Pee Wee have been nominated for Emmy's and Pee Wee Piemonte has won two Emmy Awards.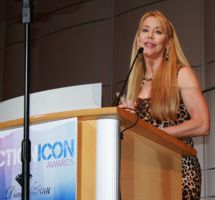 LaFaye Baker the foundation and event founder, begins the program by introducing Kenny Mayne, The Master of Ceremonies. Kenny brings up Don "The Dragon" Wilson, and of course, threatens Don that "he could, and will kick Don's ass". Don arrives with his big smile. Remember, Don is a world famous kickboxing champion. Don laughs and discusses his long working relationship with Cheryl Wheeler. Cheryl's incredible stunt reel is shown. It is a radiant Cheryl Wheeler who accepts The Helen Gibson Award.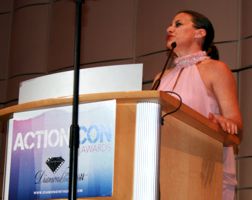 Rebecca Morley is in full tilt as she discusses the Concepts in a Box Summer Film Boot Camp Program! That's the program she told us about earlier in the evening. and she beams as she shows us the movie the young girls made during this years camp.
Heirloom was a great film that revolved around the loss of a parent and one's desire to hold on to something to remember them by. We could all relate to this film. It is quite remarkable that Heirloom was made by new student filmmakers, It's only 5 minutes long but has a powerful emotional impact.

The room is quiet, I wonder who is going to come up next? Its Miss California, Brandy Fisher! This is getting more exciting by the minute!
Brandy introduces the finalist of the Thrill of Victory, and the winner of the People's Choice Award. These finalist are students from the Film Boot Camp.
A young lady Shammah Tatum, who looks like she is about 17 years old, talks about her experiences and what she learned about filmmaking. She is so young, but she shows such knowledge of filmmaking. It is so very inspiring to realize how the program has helped her.
Shammah Tatum's presentation is followed by a very touching affirmations shared by the young ladies: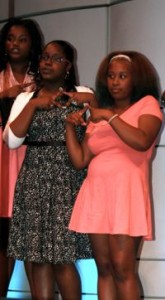 "I am a Diamond in the Raw. In the raw I stand in confidence. I stand in love, loving myself, my sisters, my family and my community. I am a Diamond. As I reflect light, I also receive light, I believe my destiny is designed for greatness. I reflect that greatness. Today and Always. I am a Diamond in the Raw. Polish me not, I stand in the spirit of rawness, uniquely created to expose goodness and beauty in all we are. I am a Diamond in the Raw."
I have to admit I wiped a tear from my eye, didn't you?
Now the fun begins as the winners of the 7th ANNUAL ACTION ICON AWARDS are announced. The winners for the Thrill of Victory Award and the People's Choice Award are chosen from the hardworking young ladies who attended boot camp and only one teen will be chosen for each award. These awards honor two participant who demonstrated passion, enthusiasm and tenacity during the six week boot camp.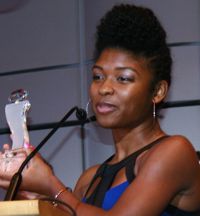 Wow, amazing, Shammah Tatum, wins both awards. She certainly is a very talented young lady!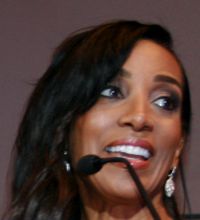 Have you heard of the Actorvist Award? This honor is given to a female philanthropist who has been instrumental in raising awareness for special causes in society, specifically at risk teens. Coming to the stage is the winner, the remarkable co-anchor from Access Hollywood, Shaun Robinson!!! She wrote a book about girls and self esteem, called Exactly As I Am. The mission of the book is to help girls grow up with more confidence so they can become tomorrow's leaders. Shaun Robinson is very inspiring.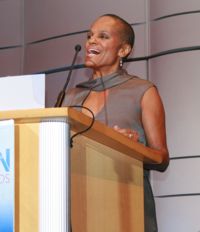 Next is the announcement for the winner of the Founders Award. It's Sharon Schaffer. She has been working hard as a Stunt woman and Actress since 1980, for 34 incredible years.
The DARE2BDifferentAward is being announced. It's an award to honor the female extreme sports athlete who epitomizes extraordinary courage, strength and talent in her sport.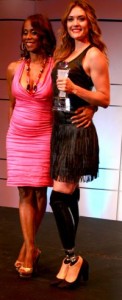 Yes, of course, the winner is Amy Purdy!!! Remember, we met this remarkable woman on the Red Carpet! Very interesting that she was working in an action film doing wirework and round house kicks even after having lost her legs to amputation. Amy Prudy and LaFaye Baker light up the stage together!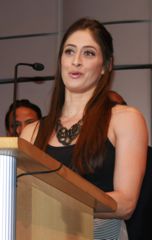 Exciting, now it's time for the Dynamic Duo Award. This award honors an action-oriented actress and her personal stunt double, whose collaboration created seamless stunt sequences. There is a hush over the room as the winners are announced. It's Stuntwoman Natalie Padilla and her acting double, Adelaide Kane.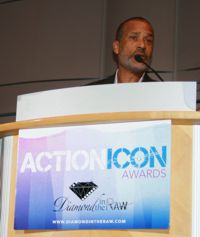 What interesting music, I wonder what's going to happen now. Wow, it look like a magic act. The magician is looking for a helper. I hope she does not come my way. We luck out, she has grabbed a gentleman. Oh my, what is she doing to that man? Is that a sword she's putting through his neck? Very funny entertainment!
Special presenter Phil Morris is coming up on stage. He is announcing the winner of the ACTION ICON AWARD. He explains that this award its to honor an actress who has thrilled and wooed the audiences in the action film genre in a leading role. He announces that the winner is Yancy Bulter, the very talented actress we met earlier.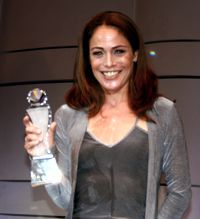 Yancy Bulter takes the stage. Her reel is amazing and her kind words about the talented Shammah Tatum bring applause. Yancy Bulter was a pistol to watch on Switch Blade, wasn't she!
There is a hush over the audience. The Jewel of the Year Award is announced. I'm thrilled and can't wait. This award it's honoring a stuntwoman who consistently generates work based of her talent, ethics, charisma and personality. The winner is the beautiful and talented Cheryl Lewis! She is so elegant as she accepts the award. I've worked with Cheryl during a fight scene and she brings such positive energy.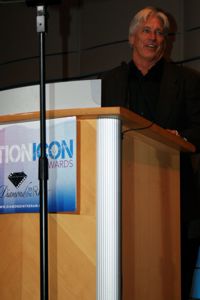 As a stunt performer you can double a person or be a character on camera doing a stunt. In a film you have seen police officers, thugs, people shopping then they do some sort of stunt, like a car chase, catch on fire or get in a fight, right? So they can be male or female and the character roles are called non-descript or utility performers. This next award, the Gem Award, honors a stunt coordinator that consistently hires a diverse group of stuntwoman as non-descript and utility performers. The winner of the Gem Award is Diamond Farnsworth, who has made it a practice to hire non-descript stunt woman for as long as he has been a stunt coordinator. Let's give him a round of applause!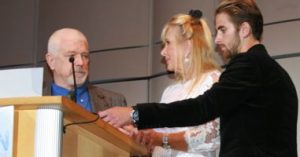 This year we lost some wonderful and treasured stunt associates and one of these people is Danny Weselis. This year at the Awards, Danny Weselis is receiving the Special Achievement Award for a life time of achievement. Danny was an amazing man. His wife and son are here to accept his award from presenter and Stunt Coordinator Andy Armstrong.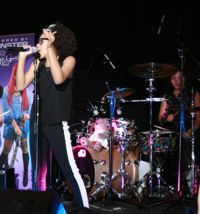 7th ANNUAL ACTION ICON AWARDS has some very talented people, but unexpected is this amazing teen band. This very talented group of girls called the Sledge Grits Band, has wowed us all and they received a standing ovation and Founder of this event,  La Fay Baker, shines with pride for them.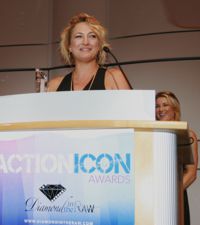 As if there has not been enough excitement for the afternoon, the Honoree for the Diamond in the Raw Award was just announced. Let me tell you about the Diamond in the Raw Award. This award will honor a stuntwoman who has exemplified extraordinary and outstanding achievement as a stunt performer. Are you ready to know who the recipient is? It's Zoe Bell and she radiates energy as she walks to the stage. She is as personable in person as she is on  screen. Zoe is overwhelmed with gratitude and she graciously accepts her award!
This is truly an inspirational afternoon at the 7th ANNUAL ACTION ICON AWARDS. With so many talented stunt professionals, how in the world is one particular woman chosen as Stuntwoman of the Year? The voting committee is made up of talented people including James Lew as the committee chair, Andy Armstrong, Jennifer Badger, Dartenea Bryant, Eliza Coleman, Brennan Dyson, Michelle Gonzalez, Angela Meryl, Julie Michaels, Conrad Palmisano, Missy Reynolds, Jim Vickers, TJ White and Jeff Wolfe. These members look for a Stunt Woman who has performed incredible and amazing stunts in television, movies and commercials.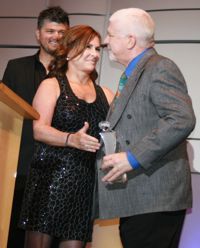 Jennifer Caputo has been chosen as Stuntwoman of the Year for the breathtaking car hit in "Bang Bang" Lets give Jennifer a big hand!! She is not in town so Andy Armstrong accepts her award, from presenters TJ White and Eliza Coleman.
What an inspiriting afternoon. I am motivated to do the best I can do in life and to help others to do the same so we can all celebrate our accomplishments together.
Don't forget Rebecca Morley's favorite quote from Lily Tomlin:
I always wondered why somebody doesn't do something about that. Then I realized I was somebody.
If you would like more information about this celebration and organization please visit the Diamond in the Raw Foundation website.
The 7th Annual Action Icon Awards is over, but there are still friends to visit!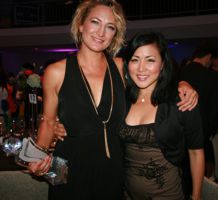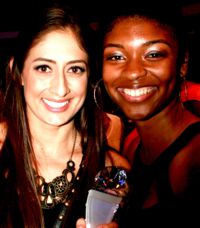 Zoe Bell and Stunt woman PeiPei Yuan pause for a photo as do Shauna Tatum, winner of the Thrill of Victory Award and the People's Choice Award and Natalie Padilla, winner of the Dynamic Duo Award.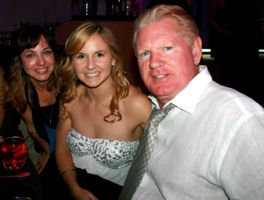 Next to Zoe Bell and PeiPei Yuan is gifted Stunt Coordinator and Producer, Terry James, with some other hard working Stuntwomen who attended the award ceremonies.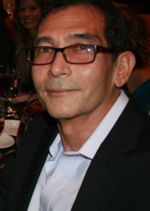 Martial Artist, Producer and owner of Traditionz Clothing, James Wilson, is here to lend support to friend Cheryl Wheeler and brother Don Wilson and the other stunt performers and to support the Diamond in the Raw Foundation.
It has been lovely sharing the 7th Annual Action Icon Awards with you. I hope you are as thrilled and inspired as I am about what the Diamond in the Raw Foundation is doing, and I hope you learned a little about the incredible women who make action exciting.
Diamond in the Raw Foundation
10736 Jefferson Blvd. Ste. #464
Culver City, CA 90230
Phone: 800 566-4714
FAX: 800 566-4714
Email: info@diamondintheraw.com
Website: Diamond in the Raw Foundation
Action Icon Awards on Facebook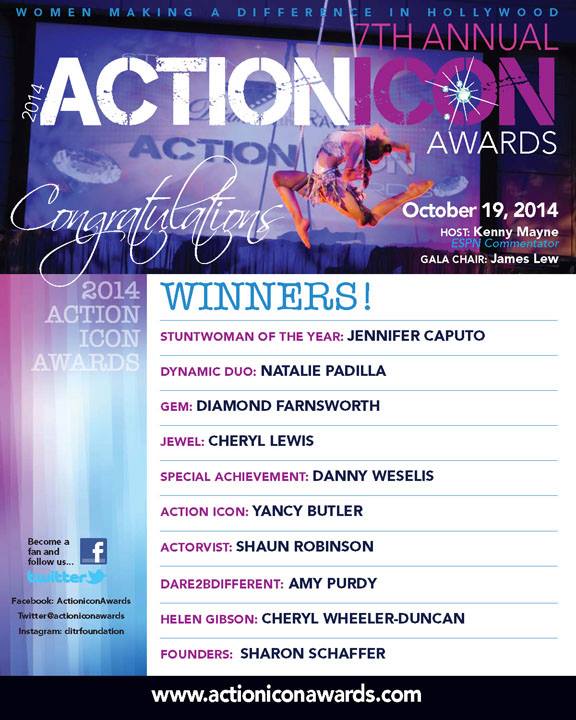 Article Edited by Dana L. Stamos